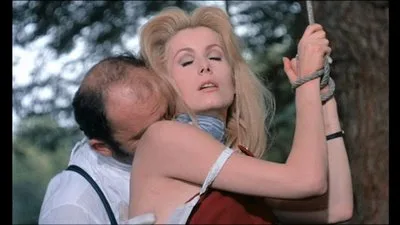 Originally posted on August 5, 2018; updated on October 10, 2022. As an Amazon Associate, we earn from qualifying purchases made via some of the links below (at no additional cost to you).
In recent years, there have been a slew of lists in mainstream media (usually timed with the release of yet another 50 Shades movie) identifying "the best BDSM movies" or movies that "do BDSM better than 50 Shades" (a pretty low bar, if you ask us). But do these roundups really represent the best kinky movies?
We'll admit that we got suckered into watching a lot of the kinky movies on these lists because we were eager to find ones we could relate to on a kinky level. Sadly, we were almost always disappointed due to myriad issues: protagonists whose kinks are portrayed as an outgrowth of mental illness, abuse dressed up as kink, incoherent plots, and so on.
What, you may ask, makes this list any different from the others? For one thing, it's compiled by two kinky people who have spent many hours watching both fictional movies and documentaries about BDSM to find what we believe are the true gems. That said, any "best of" list is subjective. Different strokes for different folks, as the apt saying goes. Without further ado, here are our picks.
We stumbled across this documentary one night while perusing Amazon's selection of kinky movies and found ourselves engrossed in the story of Catherine Robbe-Grillet, an octogenarian who just happens to be the most famous dominatrix in France. Through interviews with Catherine and those in her inner circle, the movie explores the sadomasochistic "ceremonies" that she orchestrates at her chateau for carefully chosen submissives who seek out her services. All of the interviewees are articulate and have clearly given a great deal of thought not only to what drew them to dominance or submission, but to Catherine herself.
The movie is best watched as a companion piece to Catherine's now out-of-print book, Women's Rites: Scenes from the Erotic Imagination, written under her nomme de plume, Jeanne de Berg. The book charts her progression in the BDSM scene, from seedy New York clubs to her own artistic ceremonies, and fills in some gaps left by the documentary. If you aren't sold yet, Vanity Fair published a fascinating story about her a few years ago that should whet your appetite.  
This classic directed by Luis Buñuel, starring Catherine Deneuve, tells the story of a young beautiful housewife who finds herself unable to have a sexual relationship with her husband but has constant kinky fantasies about being submissive. When she decides to work at a brothel, she begins the process of turning these fantasies into reality . . . or does she? The famously ambiguous ending leaves it up to the viewer to decide.
This was the first BDSM-themed movie we watched together and, for a long time, remained our favorite because of its authentic portrayal of a submissive mindset and its fascinating kinky brothel scenes. Someone clearly did their research.
Based on a true story, SM-Rechter is about a Belgian judge who begins an exploration of BDSM with his wife after she confesses that her depression and dissatisfaction in their marriage stems from her unmet masochistic and submissive desires. The judge agrees to give her fantasies a go out of love for her, and soon, the couple begins frequenting a local dungeon. Their newfound happiness is shattered, however, when their lifestyle is exposed and the judge is convicted of abusing his wife.
Although the movie is bit dated in look and feel, its portrayal of BDSM within a marriage is truly poignant. The couple's love for each other is palpable and made us choke up a few times. Particularly moving were the scenes in which the judge's wife goes to great lengths to defend him publicly.
Written and directed by Zelda Williams (daughter of the late Robin Williams), this short film focuses on a fictional group of women who work at a Los Angeles dungeon. By day, they fulfill their clients' wildest BDSM fantasies, and by night they deal with the trials and tribulations of vanilla life. This may sound like a set-up for some tired tropes, but the 22-minute film strikes a perfect balance between salaciousness and down-to-earth humor. The action revolves around Sasha (played by the exceedingly charming Conor Leslie), one of the pro dommes who reluctantly agrees to go on a blind date orchestrated by the headmistress of the dungeon (the excellent Frances Fisher) only to be stood up at the bar where they're supposed to meet. But she salvages the evening by embarking on an impulsive date with a stranger that results in a comedic twist of fate. The rest of the supporting cast—including Williams—add depth to the short with some tantalizing subplots. You can watch the whole thing for free via the title link. 
In our opinion, this is one of the best kinky movies we've seen. It tells the story of William Moulton Marston, the psychologist who created Wonder Woman, and his polyamorous involvement with his wife and another woman from the 1920s–1940s, who inspired him to invent the comic book hero. While the people and some of the events depicted are based on reality, the movie uses a fair amount of creative license to flesh out the story in beautiful ways. Not only are the three main characters shown as feminists who are way ahead of their time, but they engage in bondage and other kinky acts in an exploratory, emotional, and egalitarian way that is rarely seen in film. None of the characters—or their sexual proclivities—are pathologized; instead, they are portrayed as multifaceted and complex people with equally complex desires. Beyond the kink factor, the overarching storytelling, character building, and acting are impressive. The movie moved us to tears at several points.
This Korean movie has it all: accurate BDSM, charm, and romance. It focuses on Ji-hoo and Ji-woo who work together. Through an office mishap, Ji-woo discovers that Ji-hoo is a submissive. From that point on, things quickly escalate. Ji-hoo explains that he's into BDSM and asks Ji-woo if she would consider being his master. While this is a bit of a leap given that they don't really know each other, and she knows nothing about BDSM, it does provide a convenient way to introduce refreshingly accurate exposition about BDSM as Ji-woo starts to research it. Ji-woo eventually agrees to Ji-hoo's proposition, and the fun begins.
Ji-woo settles into her role as a domme quite naturally both in terms of taking control and taking care of Ji-hoo as her submissive. Not all of Ji-woo's ideas pan out well, which adds a great realistic touch. The movie also does an excellent job of portraying common negative experiences with BDSM. What makes this movie so unique and great is that it accurately and realistically portrays a BDSM dynamic with charm, humor, and heart, which is why it's our top pick to date. You can read more about it in our full review. 
A FEW MOVIES THAT DIDN'T MAKE THE CUT 
50 Shades Trilogy.

If you want to watch a primer on what not to do in a D/s relationship, this is the series for you. Much has already been written about this terrible trio of movies. No need to beat that dead horse here. This

review

about the third installment pretty much sums them all up.

9 ½ Weeks.

This is yet another story of an abusive relationship that's passed off as kinky. Negotiation? Consent? Never heard of 'em.

Last Tango in Paris.

This one shows up on some kinky movie lists because of the infamous "butter" scene in which Marlon Brando's character uses a stick of butter as lube before anally raping Maria Schneider. Not only does this have zero to do with BDSM, it's extremely disturbing to watch, even more so if you know the

backstory

to this scene.

Secretary.

This much beloved movie in the kink scene did not make the cut for us for two reasons: The female lead's interests in submission are borne out of mental illness (a tired trope), and the beginning stages of her relationship with her boss are just plain abusive. Although they're finally on more equal footing in the latter half of the movie, it never makes it any easier to accept the first half.
What are your favorite kinky movies and why? We'd love to know! Also, if you're interested in kinky short films, we've reviewed some of those as well.