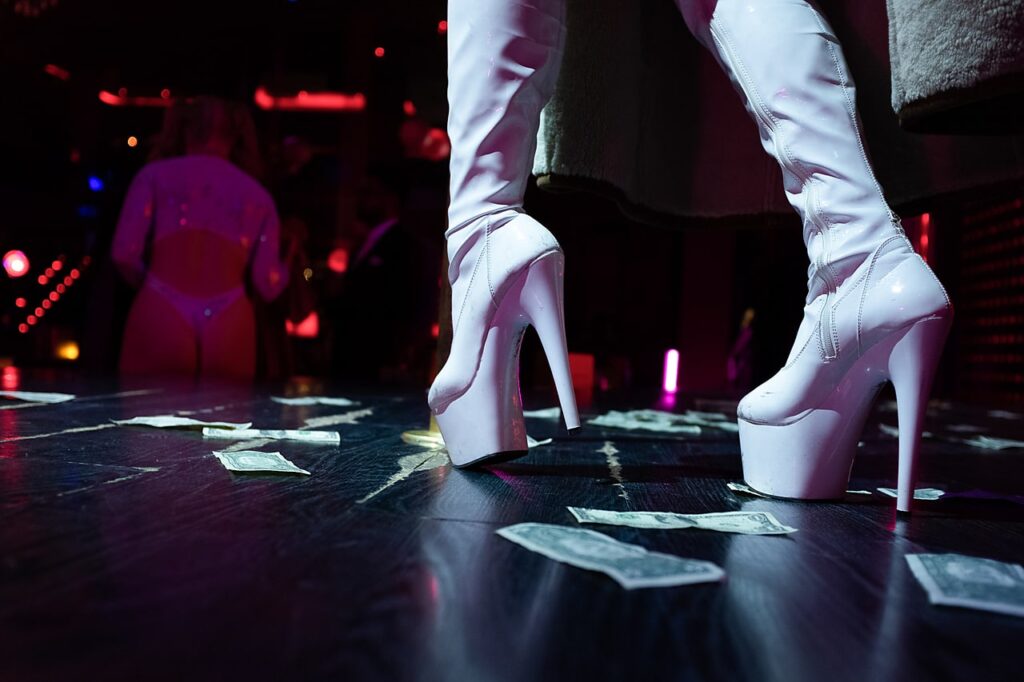 Normally we attend at least part of CineKink in person—the annual kinky film festival in New York City. But thanks to the pandemic, this year's showings were virtual, so we got to see nearly all the offerings—some good, some bad, and some in between. Here's a rundown of our 10 favorite kinky(ish) films (alphabetically) from the festival, which took place earlier this month.
We really liked the unique premise of this porno: actors Sadie Lune and Parker Marx must only touch each other through their clothes. The film begins with both of them naked and ends with them fully clothed. "Restrained by the rules of their game, there is laughing, teasing, fighting, fucking, fingering, kissing. A love scene in reverse." Getting dressed has never seemed so sexy.

Actors read real online conversations (mostly from Reddit) about dick pics—when to send them, what men hope to gain by sending unsolicited ones, and so on. The actors do a great job of bringing these convos to life, and the documentary is filmed using an interesting and complex format involving paper cut-outs of the actors. The title link leads to the full film, which is free to watch.

In this documentary, erotic film producer Morgana Muses gives herself the ultimate 50th birthday gift: a professional photo shoot with a bondage photographer who specializes in elaborate rope webs. The film chronicles the preparation for the shoot and its significance to Muses. We liked that the film focuses on a middle-aged woman and how the shoot represented a culmination of her life journey thus far.

A hookup between two gay dudes takes an unexpected and comedic turn when expectations and reality don't quite mesh. We were charmed by the acting and the frankness of the characters' communication. As the name indicates, this is just one in a series of Lessons directed by Alberto Ferreras.

The delightful performer and director Sadie Lune impressed us yet again in this porno about a young woman who comes to the pregnant Lune's house to borrow sugar and ends up in bed with her (as one does). The subtle D/s dynamics in the sex scene spoke to us as did the authenticity of the sex. In the words of producer Erica Lust, "We need to stop enforcing the MILF stereotype and start representing the sexuality of moms and moms-to-be in a smarter, less exploitative way. Just because you start being a mother, doesn't mean you stop being a woman with sexual desires."

Zarah, aspiring actress by day, exotic dancer by night, uses a nasty encounter with a customer to fuel her acting ambitions and leave stripping behind forever. Producer, writer, and actress Candace Edwards-Marchrones is fantastic in the lead role, and we liked how the character channeled her rage into making her dreams come true.

This very brief short does an excellent job of showing the enormous effort many women put into taking the perfect nude as compared to men. It made us laugh and struck us as absolutely true to life.

This short tells the story of a man who places an ad in Craigslist to find a woman who will use him as a human footstool. The woman who takes him up on it happens to be an asexual sex researcher who convinces him to be an interview subject for a book she's writing. In the course of their interviews and footstool sessions, they get to know each other and develop a real connection. We found the storytelling to be genuinely compelling and moving. It's the director's goal to turn this into a feature-length film, and we hope he does. The title link leads to the full film, which is free to watch.

If you're a shibari enthusiast, then you know that Gorgone and Gestalta are two of the most talented riggers in the scene. This film depicts a beautiful shibari sequence that is truly a wonder to behold by the time it ends. The film also uses underwater shots to capture some of the emotions of being bound.

This feature-length documentary showcases Thee Debauchery Ball, an annual Afro-futuristic, BDSM-themed House music party where Black people from Chicago and beyond gather to show off amazing costumes, get kinky, and dance the night away. The film features interviews with numerous attendees, DJs, and the creator of the event. We loved learning about the origin and growth of this party from the people who look forward to attending every year.
Interested in more kinky movies? Check out our review of 2019's kinky shorts from Cinekink and our list of the top five kinky movies of all time.