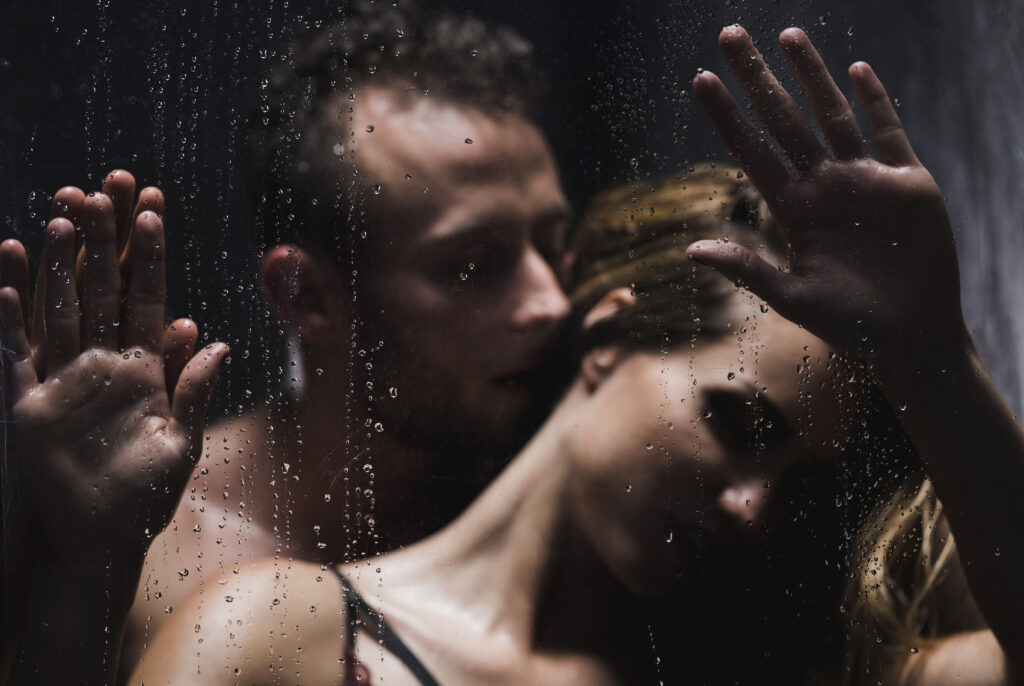 The vast majority of people fantasize about dirty talk during sex, especially people who fantasize about BDSM. But turning these fantasies into reality can be a challenge if you don't know what to say or are afraid you'll blurt out something embarrassing that will kill the mood. Our BDSM dirty talk guide brings together everything kinky couples like us need to know based on the best ideas from books, articles, classes, and hours of hot (and occasionally awkward) BDSM research.
Why talk dirty?
Dirty talk appeals to different people for different reasons. Decades ago, before Mimsy even realized she was kinky, a guy she slept with once did it and it was a huge turn on. It wasn't until many years later that she figured out what she liked about it and why, though. For her, it ties into wanting to be slut shamed. But there are plenty of other reasons dirty talk is a fun part of BDSM:
It enhances a D/s dynamic.
It can intensify whatever you're feeling and experiencing.
It helps both people remain present and focused.
It's fun to play with taboos.
Communication is key
Unless you want to run the risk of living out the Seinfeld episode where Jerry attempts dirty talk on the fly and makes a complete fool of himself, it's best to lay some groundwork first. Up-front negotiation about dirty talk is just as important as it is for any other BDSM activity because the wrong words can sting more than a single-tail. Don't just spew out whatever comes to mind in the heat of the moment. Be as specific as possible when talking to your partner about what words you like or don't like. If you're not sure, say that too.
When we were first dating and still getting familiar with each other's kinks, Mimsy brought up the topic of humiliation-oriented dirty talk via text. It was one of the few kinks she had more experience with than Vagabond, so she already knew what would turn her on or off. She told him she loved being called a slut, whore, or cunt, but that anything dehumanizing, like piece of shit, was a hard limit. He let her know that he wasn't comfortable with the idea of calling her derogatory names. But he was able to ease into it by starting with softer language that eventually led to the slurs she loved.
Once you get a feel for what your partner is into, you can use that information to get a bit more creative and turn your partner on even more. But if you want to veer into totally new territory, discuss it first. For instance, if your partner loves it when you insult their intelligence, that doesn't mean they'll want you to insult their physical appearance. Check first.
How to talk dirty
The best dirty talk is specific and uses your knowledge of the other person to your advantage. The following examples are simply a jumping off point, not a script. Figure out what vocabulary and personal flourishes work for you given your gender and role and go from there. And feel free to mix and match the different approaches; many of them overlap.
State a fact or make an observation: At the most basic level, this involves Dan Savage's recommended method of simply stating what you're going to do, what you're doing, and what you've done. But it's also fun to introduce nuances related to your dynamic.

Dom: I'm going to take all your control away. / You belong to me. / I own you. / You're tied up just the way I like you: exposed and immobilized.
Sub: I would do anything for you. / I would let you do anything to me. / I belong to you. / I've been bad. / I'm your fuck toy.
Ask a question: Prompting your partner with a question is the most obvious way to start a kinky dialogue, especially if one person feels a little tongue tied.

Dom: If I let you come, what are you going to do for me? / Who do you belong to? / Whose whore are you?
Sub: Do you think the people on the street today knew I was your whore? / Do you like controlling me?
Command/Beg: Giving commands is typically associated with a dominant role and is a direct way to get a sub to do what they're told. Commands are also a great way to get shy subs to respond. Begging is more or less the submissive version of commanding and can vary in intensity.

Dom Commanding: Look at me when you come! / Get on all fours in the middle of the bed. / Touch yourself and don't stop unless I tell you to. / Tell me what a fucking slut you are. / Don't come until I tell you to. / Tell me where you want me to come. / Bend over my lap. / Get on your knees and crawl.
Sub Begging: Please, Sir, I need your cock inside me. / Mistress, please let me lick your pussy. / Please let me come now. I'm begging you! / I want to feel your cum on my face. / I need you to punish me. / I need to be spanked hard. / I want you to take my control away.
Plead/Scold: What a dom says in a disciplinarian dynamic is especially significant. The punishments themselves are often considered less important than the context, such as absolving the sub's wrongdoings. In our example, as in a typical scolding scene, we'll let the dom have the final word.

Sub Pleading: I don't deserve another flogging, I've been good. / Coming while thinking of you isn't breaking a rule, is it?
Dom Scolding: You behave best after I make your ass nice and red. / Get over my knee now; I don't want to hear another word. / Cry all you want, you know the consequences.
Compliment: Compliments can be what one might think of as traditional, but they can also be cleverly embedded in humiliation.

Dom: Your ass feels so tight. / Only a slut like you could make me feel this good. / You're the best whore I've ever fucked. / You're going to make me come, you bitch.
Sub: Your cock feels incredible. / You're the only one who can keep me in line. / I love the way you control me.
Confess: This is a great way to incorporate fantasies you've been having about your partner.

Dom: I've been thinking about bending you over that couch and spanking you all day. / The entire time we were out tonight, I was thinking about how to punish you when we got home.
Sub: I couldn't sleep last night because I kept thinking about choking on your cock. / I had to touch myself at work today because I was thinking about that spanking you gave me.
Humiliate: We've devoted an entire post to this topic because it can get fairly nuanced. The short version is that humiliation is very individual and what works for one person may fall flat for someone else. Also, doms aren't the only ones who can dish it out. Submissive brats can degrade their tamers who are just masochistic enough to enjoy it before overtaking their resisting sub.

Dom: You were made to be used like a fucking whore. / Everyone at that party could tell that you're my whore the second they saw you. / Only a dirty, nasty slut like you would come with a knife at her throat.
Sub Agreeing: I was made to be used like a fucking whore. / I deserve to be used like a filthy cunt.
Sub Humiliating: You'll never be able to handle me. / Feels like you need a spanking class.
Be Aggressive/Resist: An aggressive approach works well for CNC or any scene where you want to incorporate rougher humiliation. For subs, resisting can be the response to aggression.

Dom Being Aggressive: Shut up and fucking take it, you cunt! / I'm not stopping even if you scream. / Look at what you're wearing! You asked for this.
Sub Resisting: Get off me you fucking pig! / I'll never submit to an asshole like you.
Threaten/Taunt: Threats can easily be incorporated into rougher play like CNC, but they can also be more discipline oriented. In response, subs can obey or, if they're a smart-ass masochist (SAM) or brat, they can taunt the dom instead, which is a fun way to signal that the dom should keep going or be rougher.

Dom Threatening: If you move from that position, you're going to get punished.
Sub Obeying: Yes, sir. / I will behave, domina.
Sub Taunting: Fuck you, mistress. / Is that all you got, motherfucker?
Parts of Speech Grab Bag
These word lists are far from comprehensive, but can be an inspirational starting point for coming up with your own dirty talk examples.
Nouns: ass, asshole, baby, babygirl, bitch, boy, butthole, clit, cock, cuck, cuckold, cumdumpster, cumtrap, cumslut, cunt, daddy, dick, dog, dyke, edge, expose, faggot, freak, fuck doll, fuckholes, fuck slut, fucktoy, garbage, girl, goddess, hoe, holes, kitten, loser, maggot, master, mercy, mistress, mommy, nipples, pansy, pervert, pet, pig, prick, princess, pup, pussy, scum, sir, skank, slave, slit, slut, tramp, tits, tongue, trash, twat, whore
Adjectives: amazing, bad, big, deep, desperate, dirty, disgusting, dripping, dumb, embarrassed, exposed, filthy, freaky, good, hard, horny, huge, hot, incredible, insatiable, lazy, little, nasty, naughty, pathetic, perfect, pitiful, rough, sexy, sinful, sleazy, stupid, throbbing, tight, unworthy, used, wet, wimpy, worthless
Verbs: beg, bend, bind, bite, blow, choke, claim, come, control, crawl, devour, dominate, edge, face fuck, feel, force, fuck, grab, gush, hit, hold, jerk, kneel, lick, look, mark, moan, need, own, peg, pin, pinch, play, pound, pull, punch, punish, push, ravish, rip, restrain, rub, scratch, shove, slap, slip, spank, spit, stroke, submit, suck, swallow, take, taste, tease, thrust, tie, touch, torture, want, whip, worship