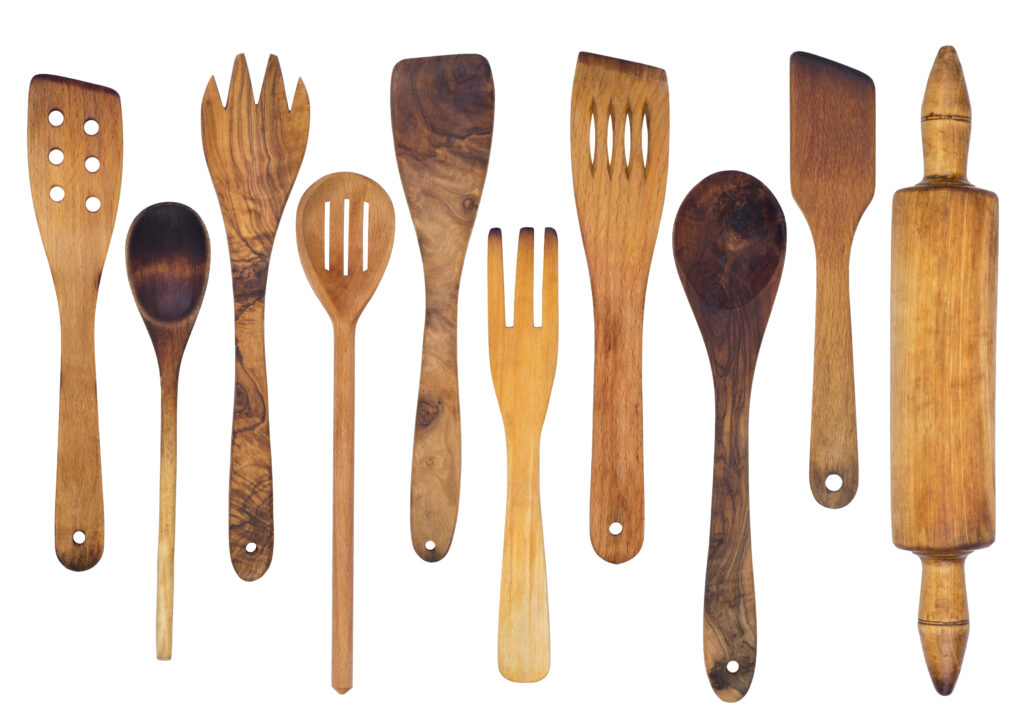 As an Amazon Associate, we earn from qualifying purchases made via some of the links below
(at no additional cost to you).
Although BDSM is often associated with fancy leather or latex outfits and expensive equipment, the truth is you don't need any of that to partake. You can be just as kinky using homemade gear or things you already own. Here are some of our favorite ways to do BDSM on the cheap.
PERVERTIBLE GEAR
If you don't want to spend a lot of money on equipment, pervertibles are the way to go. A pervertible is an item that isn't intended to be a BDSM implement or sex toy but can easily be used as one.
Here are some ideas to get you started, but this is not an exhaustive list. Look around your kitchen or home with BDSM in mind. You undoubtedly have dozens of pervertibles already that you might not even be aware of. And if you aren't satisfied with things you already own, a trip to your local dollar store, hardware store, or pet supply store will yield plenty of cheap BDSM-friendly options.  
BONDAGE
Good old three-strand cotton rope can provide meters of fun for just a few bucks, but you definitely already have the bondage materials you need for lots of creative scenes.
Belts: Great for restraining wrists, ankles, etc. This short video shows how to secure someone's wrists with a belt.
Neckties: Contrary to popular belief, it's no more dangerous to use ties for bondage than it is to use rope. (Though obviously do not attempt any sort of suspension with ties!). Neckties especially lend themselves to basic single-column and double-column ties and for tying limbs to pieces of furniture, such as table legs, headboards, chairs, etc.
Bed sheets: Your sheets can easily be used to bind someone. If you've ever swaddled a baby, you get the idea. Sheets are also great to use if your bottom is a little chilly.
Self-adhesive bandage wraps (aka vet wrap): Normally used to wrap injured legs, arms, etc. but is a fun alternative to rope. Vet wrap isn't reusable, though, so use it sparingly if you want it to be cost-effective.
SPANKING AND IMPACT
For some impact bottoms, the best spankings come from a personal implement, perhaps one that their top asked them to find. Even if that isn't part of your dynamic, all the stings and thuds you need are already at home.
Spoons/spatulas: Wood, silicone, take your pick. Both are stingy and produce about the same level of sound.
Hairbrush: Besides the many choices of material and weight, the bristles of some hairbrushes can be used for additional surprise sensations.
Ping pong paddles: Perhaps this is too obvious of a pervertable, but we didn't realize you could buy a pair of paddles for less than 10 bucks (I'm afraid we haven't come up with a creative use for the accompanying balls).
Rulers: The perfect spanking implement for people who are into old-fashioned corporal punishment scenes.
Power cords: Loop the cord and whack away. But be aware that this causes pretty intense pain and will likely leave marks.
Plastic coat hangers: A quieter option that's similar to canes in terms of noise.
Rolling pin: Good for people who enjoy thuddy over stingy sensations. Be careful with the amount of force you use to swing one, though.
Hot water bottle (filled): Another thuddy option that's also fairly quiet.
Meat tenderizer: These mallets used to pound meat usually have a flat side and a bumpy side, either of which could be used for smacking various body parts. The bumpy side can also be used for sensation play.
Equestrian gear: A number of horse whips can serve double duty as impact toys, and they usually cost less than sex shop equivalents. Fly whisks, crops, and sparkle bats are a few examples. We haven't tried one, but we bet there are switchy littles out there who would love a sparkle bat.
SENSATION PLAY
Sharp, soft, cold, hot—you can create all of these sensations and more by using various tools around your home. Ice is the most obvious choice, but you likely have some gadgets lying around that could be used for cheap BDSM sensation play.
DIY GEAR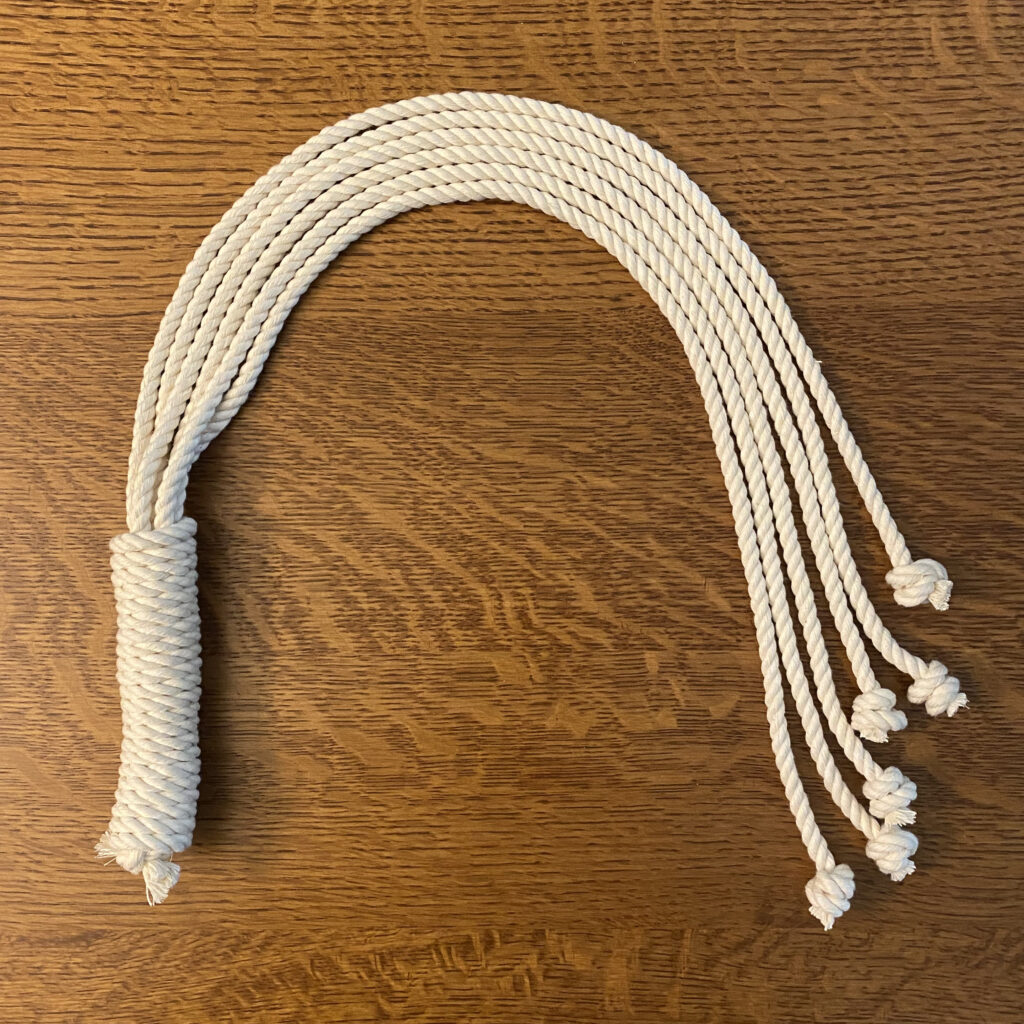 "Do-it-yourself" is another way to do BDSM on the cheap. And there are a plethora of tutorials and guides available for creative kinksters who want to make their own equipment. At one point, we attempted to make our own rope, which involved way more yarn and labor than we anticipated, but it was a fun little experiment.
Clothing
While some kinksters and fetishists enjoy wearing leather and latex, these outfits can be quite costly and aren't required to go to BDSM events or enjoy kinky activities. Chances are, you already own clothes that you can wear to a kink event and won't need to buy whole new outfits. We've written elsewhere on cheap clothing options for BDSM events, but here are a few tips.
No "street clothes." This is a common stipulation in BDSM event dress codes and basically means no blue jeans, t-shirts, etc. In other words, don't dress like you just went shopping at the Gap.
All black. This is often a very safe option that doesn't require much work. You probably already own a black outfit of some sort. Even if it's something you wear in vanilla contexts, it can still be perfectly acceptable for kink events. One of Mimsy's favorite things to wear to events is a sleeveless black skater dress that she also wears for vanilla occasions. Vagabond often wears black jeans. We've never been turned away for not looking kinky enough.
Lingerie. This is a common choice for submissives (especially female subs) and can be cost-effective as well, depending on where you buy it. You can make it as skimpy or modest as your comfort level allows.
Mix and match. Another option is to combine vanilla items with clothing that has a kinkier edge. For instance, Mimsy has worn an oversized men's white dress shirt with fishnets or a velvet bra under a black blazer.
CLASSES AND EVENTS
One positive byproduct of the COVID-19 pandemic is the plethora of available online classes related to BDSM. Although organizations and instructors were forced to switch to virtual platforms during the pandemic, it seems likely that many will continue using this format post-pandemic because they can reach more people.
Many online BDSM classes have cheap fees or sliding scales. When we wrote this post, we found a number of classes listed on Eventbrite and FetLife that were free or under $25. In-person classes often aren't overly expensive, either, and many offer sliding-scale discounts and memberships. Here in New York, TES offers student and group membership discounts that make their regular classes and events even more affordable.
BDSM events, such as play parties, can be pricey, but many of them have early bird ticket sales that help mitigate the cost. BDSM conventions are even more expensive, but they frequently offer early bird discounts as well. They also tend to offer reduced rates in exchange for volunteer hours, if you're so inclined.