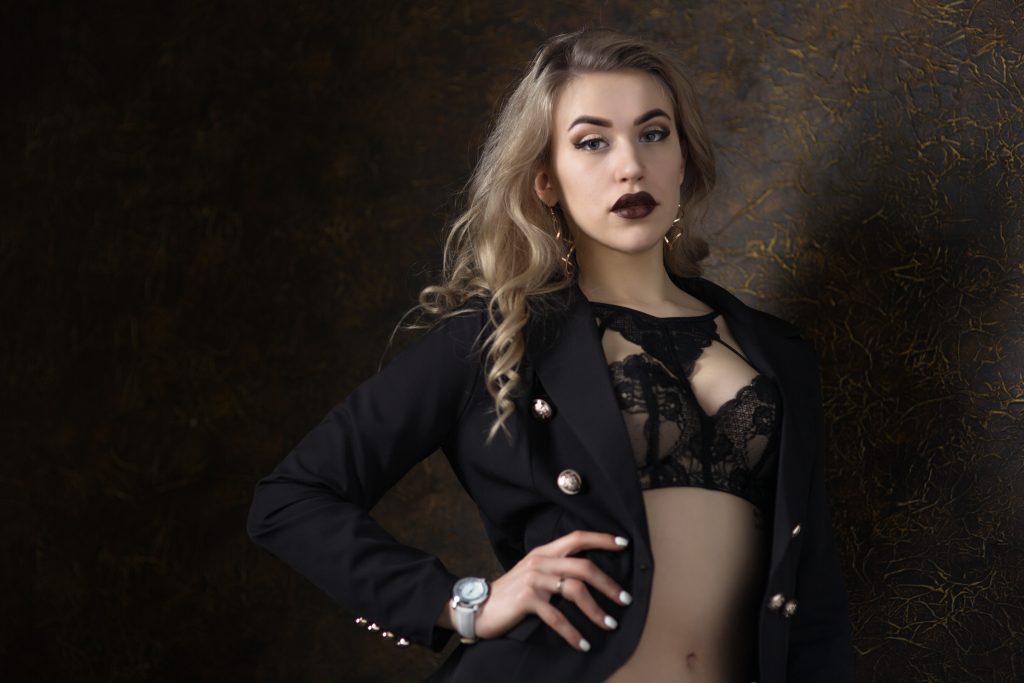 We may make money off one of the links below at no additional cost to you.
"Fetish Costumes Only! No Casual Street Clothes! No Jeans!" If you've ever considered going to a kink event but hesitated because of seemingly strict dress codes like this one, you're not alone. The good news is that it's very unlikely you'll need to buy a closet full of fetish wear to attend a BDSM party or even a BDSM convention. With a little creativity, you can whip up something perfectly suitable using what you already own.
Understanding Dress Codes
When Vagabond and I met, I had never been to a kink event and was terrified to go to one, in part because I had no idea what to wear. As a newbie, I saw the dress codes as intimidating and needlessly exclusionary. Vagabond was an experienced party-goer and assured me I had nothing to worry about, but as the rule-bound person I am, I remained convinced I would be ejected on sight if I didn't find the right outfit.
Fortunately, the first event we attended together had a pretty broad dress code: fetish, latex, leather, PVC, lingerie, formal wear, evening gowns, tuxedos, Burner beautiful, creative, suits, uniforms, kilts, school girl outfits. I didn't own anything that could be considered fetish wear, and I didn't feel comfortable wearing lingerie, but formal wear was definitely up my alley.
As it turned out, wearing a gold sequin dress to a kink party made me stand out a bit more than I thought it would, but I certainly didn't get kicked out, and more importantly, I was comfortable with my outfit. And while many people there were wearing lingerie and latex, there were also people wearing t-shirts and sneakers. 
As time went on, I began to understand that when it comes to dress codes, the bark is much worse than the bite. They exist to keep "tourists" out, not to strongarm everyone into buying new clothes (though expanding your wardrobe can be fun, too).
And, after being at some events with little to no clothing guidance, I came to see the value in dress codes. It's a little creepy to see people who look like they've just wandered in from the nearest suburban mall ogling attendees who made an effort to dress appropriately.
Developing Your Own Style
Once Vagabond and I started going to more events and I was less nervous, I began to get more creative with my outfits. Strangely, kink event dress codes started to feel more liberating than restrictive. As a woman over 40, I'm free to dress as provocatively or uniquely as I want without being judged for it. The possibilities are endless!
That said, I also know my personal limits. I'm not comfortable being semi-naked in public, so skimpy lingerie—common sub attire—doesn't work for me. Instead, I tend to pick outfits that are a little more understated. Some of them even work in vanilla contexts.
For example, I have a little black dress that I've worn to wedding receptions, kink events, and everything in between. The neckline garners compliments at BDSM events because it evokes a collar. I often wear it with knee-high lace-up boots (another example of something I wear in both vanilla and kinky contexts) and openwork tights. Sometimes I like to deviate from all black and wear red shoes.
When I want to look a little more overtly kinky but still within my comfort zone, I have a number of tried and true options. I have a lace slip with an asymmetrical hem and neckline (shown below) that easily passes as a regular dress except that if the light is right, you can see my nipples through it. For that reason, I wouldn't wear it for a vanilla night out.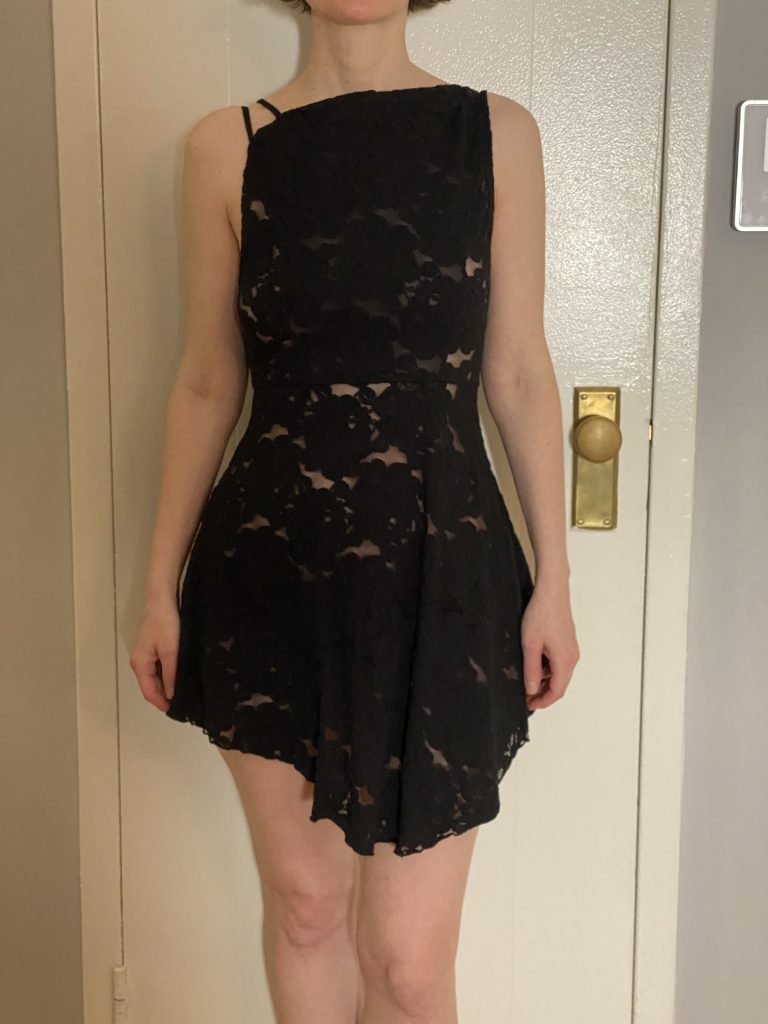 I've also worn black high-waisted shorts with fishnets and boots with a black velvet bra and blazer (similar to the image at the start of this post). For a kinky New Year's Eve party a couple of years ago, I wore a black corset with a tutu-like skirt (shown below). It was freezing that night, so I also wore black fleece-lined tights for modesty and warmth. I added over-the-knee suede boots and an ornate black necklace to complete the look.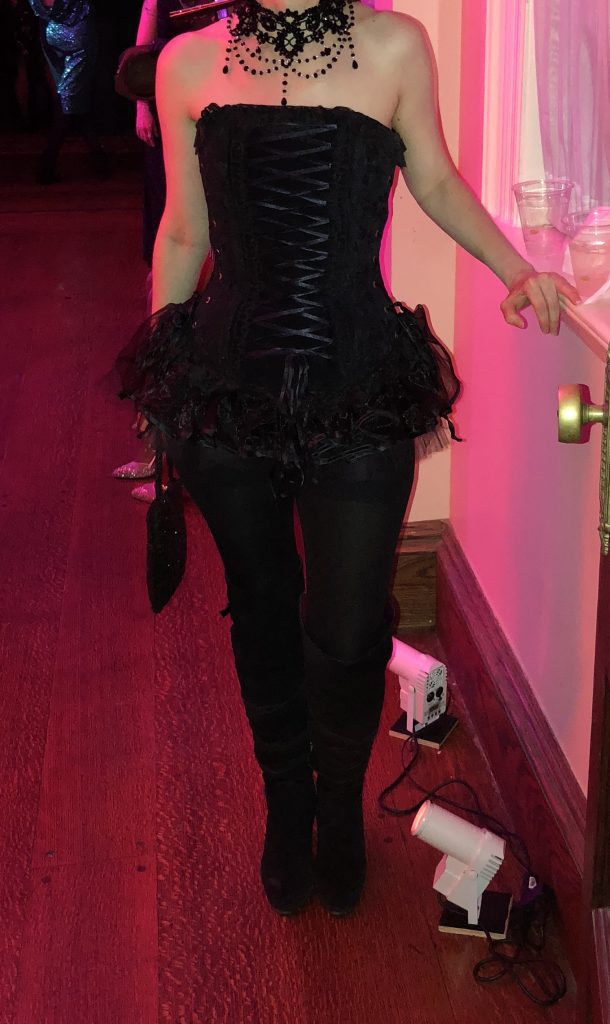 At one point, I created an 80s throwback outfit that was inspired by Madonna in Desperately Seeking Susan and Tom Cruise in Risky Business. I wore an oversized white men's shirt with fishnet and lace stockings with built-in garters. Generally I've also added a corset-style belt, but it works without one too (see below). This is a sexy look that's easy to put together and won't break the bank.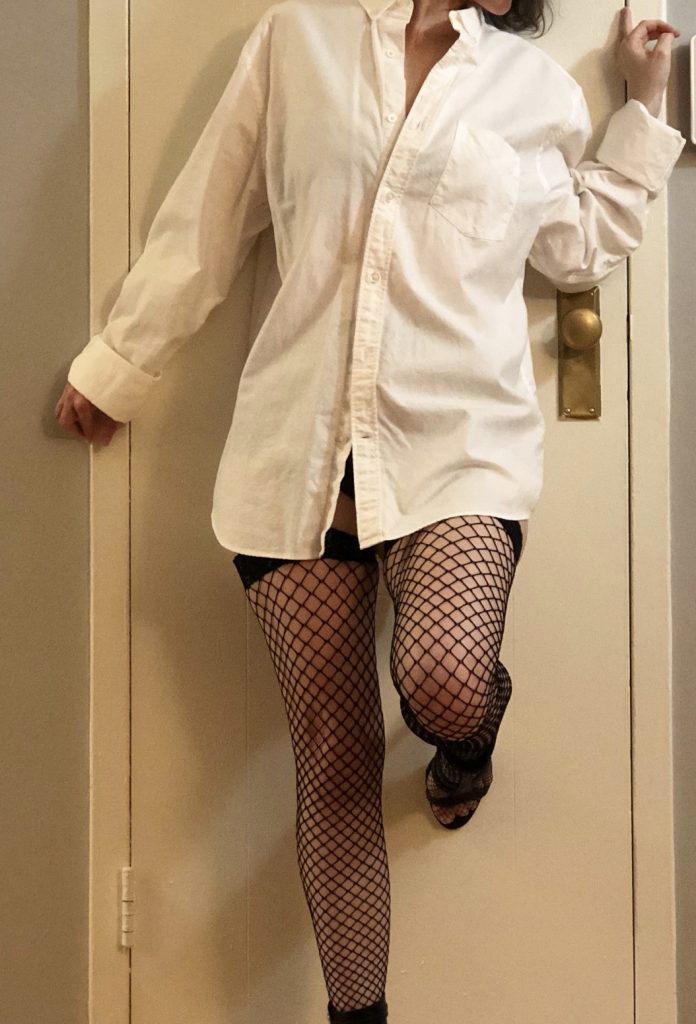 For men, there tends to be less variety, for better or worse. At most events, there are generally a lot of guys wearing suits or suit-adjacent clothes (think vests, blazers, etc.). There are almost always a few men in kilts. All black is also fairly standard. Vagabond most often wears fancy black jeans, a black shirt, and a black blazer (which isn't that far off from what he wears normally).
Needless to say, he's never been kicked out of an event for wearing this get-up. He also has a latex vest for occasions when he wants to look kinkier (shown below). He's never gone the leather route, as that's quite an investment and isn't really his aesthetic, though it works for a lot of people.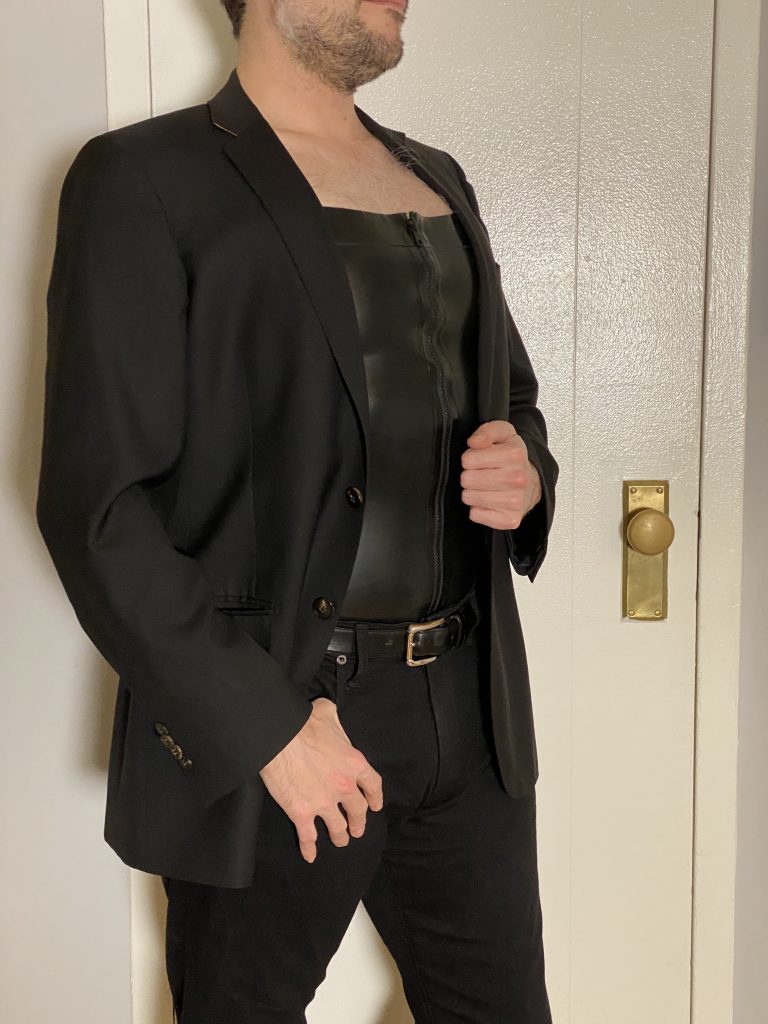 Rather than seeing kink event dress codes as a hindrance, use them as an opportunity to express yourself and let your freak flag fly. Whether this involves buying leather and latex or repurposing clothes you already own to fit a kinky context is up to you. In the end, the most important thing is to be yourself and have fun.