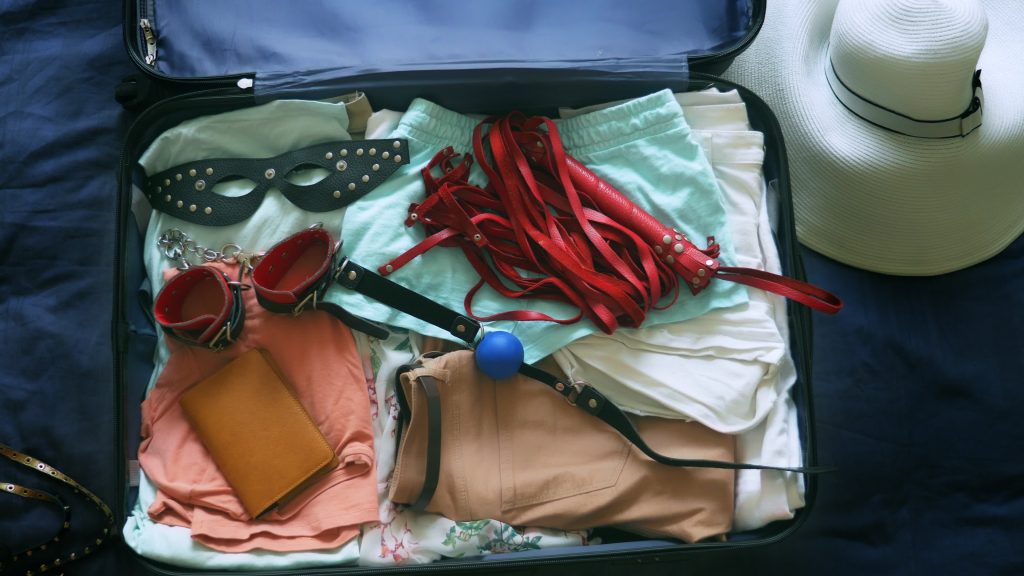 The first time we attended a BDSM convention, we had no tips to follow and no idea what to expect. Would we fit in? Would we know what to do? What to wear? The short answer is yes! BDSM conventions warmly welcome everyone regardless of age or body type. Further, we were relieved to discover that BDSM "cons" share more similarities with other types of conventions than you might guess: educational sessions, vendors, social events, and crappy hotel food. Of course, most conventions don't include dungeons.
Whether you've only thought about attending a BDSM conference or convention or have already attended one, here are some tips we wish we'd had earlier on that will help you get the most out of your kinky con experience.
1. Register early
Let's face it: attending a convention is not cheap, especially if it's not near where you live. The cost of travel, conference fee, hotel, and food all add up. You can sometimes knock a few bucks off the total by registering early, as many conventions have early bird registration deals with a lower conference fee. Many BDSM cons are hotel takeovers, so registering early also ensures that you'll get to stay at the host hotel instead of an overflow hotel. While overflow hotels are generally very close to host hotels, the real action occurs in the host hotel.
2. Pack carefully
We are generally light packers (we never check bags when flying), but there are different considerations when packing for a BDSM-themed trip than there are for a regular vacation. Depending on the dress code at your conference, you may not be able to wear fetish clothes everywhere in the hotel, and you might not want to anyway. Most people tend to dress more vanilla for classes and trot out the fetish wear for dungeon time. If this is your plan, you'll need two outfits for each day of the conference. Even if you plan to rewear things, you'll likely end up packing more than you normally would. You should also plan to bring clothes that will work for a range of temperatures, as hotels can be unevenly heated and cooled (not to mention the weather outside). Mimsy made the mistake of not bringing a sweater to Dark Odyssey Winter Fire this year and ended up wearing Vagabond's blazer in the dungeon because it felt like a meat locker. Also make sure you pack whatever gear you want to use in the dungeon unless you plan to buy all new gear from vendors at the con.
3. Read the event rules and follow them
You will almost certainly be required to sign one or more waivers when you arrive at a BDSM conference and check in. Do not ignore the fine print. You might think you know what all the rules are, but they vary from event to event, and they go beyond obvious issues like consent violations. Typically, there are policies related to dress code, cameras, lost ID badges, and more. For example, at Winter Fire this year, attendees had to dress "better than street legal" in all common areas of the hotel, all cell phone cameras had to be covered with blue tape for the duration of the con, and attendees were charged 20 dollars if they failed to produce their wristband and ID badge when entering the hotel. They take the rules very seriously. One morning, conference staff attempted to fine Vagabond for daring to return to the hotel after an early breakfast without his ID badge, which he'd left in our room. This was despite the fact that he was wearing the conference wrist band.
4. Plan and pace yourself
Most conventions post a draft version of their session/event schedules online before the convention begins (how long before depends on the con). Take a look in advance, if possible, but don't print anything out. You'll receive the final version of the conference program or be directed to a conference app once you arrive and check in. When you get the real schedule, take some time to figure out which classes you want to attend, including some back-up options in case your first-choice sessions end up being duds. That said, aim for quality over quantity. Attending back-to-back classes each day of a con can quickly become draining. Be sure to build in breaks, including naps, especially if you plan to stay up late in the dungeon. Also be prepared to arrive early for classes taught by well-known presenters, such as Princess Kali, Shay and Stefanos, Midori, Orpheus Black, and others. These classes fill up quickly and often run out of seating. Showing up early is particularly important for popular classes involving demos where you'll want to be seated near the front. We happened to get front-row seats at a class on resistance play taught by Shay and Stefanos at this year's Winter Fire. It was a good thing we did since half of the demos were done on the floor and would have been difficult to see from farther back.
5. Use the stairs
This may seem like an odd piece of advice, but once you see the lines for the elevators at conference hotels, you'll get it. BDSM cons often involve hotel takeovers, which means everyone staying there is affiliated with the con and on the same schedule. This can result in long wait times for elevators (at least 10 minutes) and crowding akin to subways at rush hour. If you're physically able to take the stairs to and from your floor, do it, so the elevators can be prioritized for people who really need them.
6. Leave the hotel for food
It may seem tempting to take advantage of the hotel restaurant for all your meals, but trust us, you will get very bored very fast. Eat the hotel food when you're short on time or it's logistically difficult to go elsewhere. For example, some cons, like TESFest, are in rather isolated areas that make leaving hard unless you have a car. Otherwise, venture forth. Since you'll be sitting for huge chunks of the convention, it's even better if you can find restaurants within walking distance. Winter Fire was in downtown Baltimore this year, so we made a point of identifying a number of restaurants we wanted to try in the area. In the end, we had a lot of great meals and got to see more of the city than we would have had we just stayed in the hotel the whole time.
7. Read the dungeon rules and follow them
The main dungeon at BDSM cons will be open every night of the con, and some cons have additional daytime dungeon areas. Each BDSM conference has its own dungeon policies. Do not assume that one conference's dungeon rules will apply to another. For example, Winter Fire allows intercourse in the dungeon; TESFest does not. Although it may look like "anything goes" in event dungeons, this is not the case. There are often designated areas for things like fire play, medical play, wrestling, and so on. If you've read the rules and you're still not sure whether the scene you want to do will fly, ask a dungeon monitor.
8. Expect sensory overload
Unless you plan to avoid the dungeon for the duration of the conference (and why would you?), be prepared to see anything and everything, including kinks that are not your jam. We aren't into watching public sex, for example, but it's hard to avoid at cons that allow it, so we just try to steer clear of scenes involving it as much as we can. But inadvertently stumbling across someone sucking a dick is going to happen. Be prepared to see an abundance of flesh being battered, bruised, and suspended and hear all the noises that accompany such activities. If you're on the introverted side, like we are, you might reach a saturation point fairly quickly. It's not unusual for us to spend an hour or so in the dungeon and call it a night. Do whatever works best for you.
9. Plan public scenes in advance
On the first night of the con when the dungeon opens, it's a good idea to do some reconnaissance to get the lay of the land before you actually play. Scope out all the available equipment, the location of cleaning supplies, and so on. When you plan your scene, keep in mind that dungeons at conventions get extremely crowded as the night goes on, so if your priority is having your pick of equipment (St. Andrew's crosses, hard points for suspension, etc.), arrive early. If having a lot of onlookers is more important, then wait until the space fills up a bit, but know that you might have to stand around patiently waiting until the equipment you need is available. Most dungeon rules ask that attendees not hog equipment for long periods of time, so be sure to plan what you want to do in advance so you aren't wasting valuable time figuring it out in the dungeon. Also, don't forget to account for equipment cleaning time, which will likely take longer than you think if you're doing it correctly. Read the labels of your wipes boxes! It takes minutes, not seconds, for human-safe disinfectants to truly clean pathogens from most surfaces.
10. Fuck first
As Dan Savage fans know, "fuck first" is the advice he often gives to couples who have a fun, sexy date but are too tired to actually have sex by the time they get home. You might think that an entire weekend devoted to BDSM would be one continuous fuckfest, but after full days of classes, food, and events, you might be more depleted than you would imagine. Unless you're saving all your mojo for a public sex scene, we advise fucking during downtime in the afternoon or early evening so you have the energy to partake in dungeon fun at night.
What are your tips for attending a BDSM convention? Let us know in the comments!