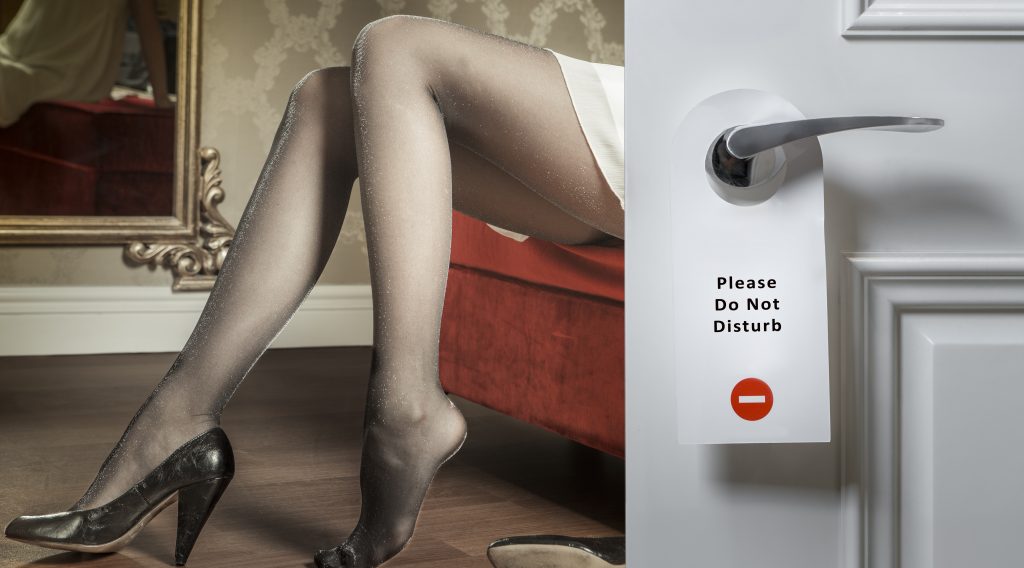 As an Amazon Associate, we earn from qualifying purchases made via some of the links below (at no additional cost to you). We may also make money off some of the other links below.
How can you keep things kinky when you travel if it's not feasible or practical to take all your BDSM gear along with you? Here's how to avoid a vanilla vacation even when you're traveling light.
Hotel Room Tips and Tricks
Necessity is the master of invention—and perversion! Hotel rooms are filled with would-be pervertibles that can be used for BDSM when you travel.
Bondage
Use the bed sheet to wrap up your partner. Swaddling techniques come in handy for this.
Use hotel bathrobe belts to tie your partner's hands, feet, or anything else. Be sure to use slip knots so they're easy to untie. One or more pillowcases, especially king-size, also work well for this.
Don't forget about your own clothes: Belts, underwear, ties, and so on, can all be used for bondage. Use this easy belt maneuver to adjust the size of the restraint as needed, or twist a pair of underwear around wrists or ankles in a figure eight, much like a hair elastic.
Impact
Your hands are a no-brainer. If you're worried about thin hotel walls, try punching instead of spanking. It's quieter and thuddier. Be sure to use the flat part of your fist on fleshy parts of your partner's body.
Belts are another obvious choice, but potentially very loud, so proceed with caution.
Those Gideon bibles in the nightstand drawer can serve as a makeshift paddle, but again, be aware of the noise.
Local Stores
If you find your accommodations lacking on the pervertible front or simply want more variety, consider checking out a sex toy store where you're staying. Unfortunately, these types of shops are often in inconvenient parts of town in many small and mid-sized cities (if they exist at all) or focus primarily on novelty items for bachelorette parties and the like.
However, nearly every town has a drug store and a hardware store. Depending on what kind of shop you end up in, see what strikes your fancy. Keep an eye out for these TSA carry-on–approved items, all of which are either disposable or light and portable:
If all else fails, you can also look for pervertibles in any store that sells kitchen or household supplies. Our post on how to do BDSM on the cheap has tons of great ideas.
Packing
If you cannot bear to leave your favorite toy at home or end up buying something while you're away that you don't want to leave behind, then you'll need to figure out how to pack it. This may be more of a concern if, like us, you hate checking luggage.
For the most part, items like rope, handcuffs, blindfolds, and other TSA-approved goodies can simply be tossed into your bag. If, however, you're carrying something battery operated, it's a good idea to remove the batteries and place them in a separate bag or drain rechargeable batteries first to avoid any embarrassing incidents while going through security.
Rules and Regulations
Keep in mind that laws regarding BDSM and sex toys vary from country to country, and even state to state in the U.S. If you want to bring BDSM gear with you through airport security or customs when you travel, do your research first to avoid getting stuck.
In some countries, such as India, Malaysia, the Maldives, Saudi Arabia, Thailand, the United Arab Emirates, and Vietnam, sex toys are banned and cannot be brought through customs because they're considered pornographic material.
What qualifies as a sex toy may vary depending on where you're going, but if you don't want to run the risk of having your toys confiscated at the airport, rely on pervertibles in the privacy of your hotel room. In some U.S. states, such as Alabama, sex toys are technically illegal, but you can still transport them across state lines for personal use.
The legality of BDSM activities also varies from place to place. For example, it's legal with consent in Germany, Japan, the Netherlands, and in Scandinavian countries, but is illegal in the U.K. While there is no federal law regarding BDSM in the U.S., individual states may have laws about it. Often, legality hinges on consent, but not always. If you're worried about the legal status of BDSM in a place you're visiting, conduct some research ahead of time.
If you're wondering what you can and can't do or bring on vacation, always check TSA or customs websites first. Or, simply leave your gear at home and rely on ye olde imagination when you get to your destination. With a little creativity and perversion, your vacation can be just as kinky as your home life.