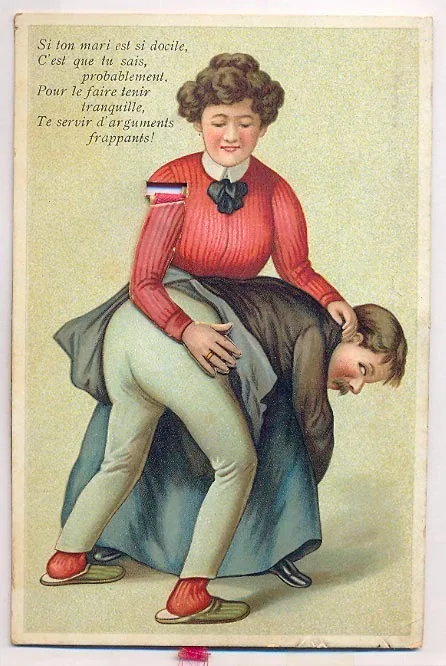 As an Amazon Associate, we earn from qualifying purchases made via some of the links below (at no additional cost to you).
Spanking is one of our favorite BDSM activities because it's such an effective way to combine intimacy, eroticism, and D/s in one maneuver that's pretty easy to learn and doesn't require any special equipment. Our guide covers everything you need to know.
Why Do People Like Spanking?
About a third of people who have experimented with BDSM have tried spanking, which means it's one of the most common kinky activities. But why? There are myriad reasons people enjoy spanking and being spanked. Some people enjoy giving and receiving pain. Other people get off on punishment or humiliation. Others seek catharsis or want to prove to themselves that they can withstand an ordeal. Some people simply like how spanking enhances a D/s dynamic. One of Mimsy's first legit kinky experiences involved being spanked on and off for over an hour on a guy's couch. Though not a masochist, she loved how submissive it made her feel.
Often, the reasons people are into spanking are far more nuanced and complex. One woman we know said that for her, it's about discipline and idealized self-image fulfillment. "I like to think of myself as subversive, but I'm not really," she said. "With spanking, I get to pretend at being subversive and get punished for it. The punishment serves as confirmation (though phony) of my subversiveness. It feels like I am who I want to be underneath everything. At least for a bit."
And, of course, for some people—like Jillian Keenan—spanking is a true fetish. In her book Sex with Shakespeare, Keenan writes that "[i]t would not be accurate to say that spankings 'turn me on,' or that I 'enjoy being spanked.' Those phrases don't describe obsession. What would be accurate is to say that all day, every day, for my entire life, I've thought about spankings. Spanking is not part of my sex life; spanking is my sex life. (To be honest, I could almost drop the word sex from that sentence.)" Elsewhere, Keenan has noted that "I'm not into pain; I'm into being spanked," which might seem contradictory but is a common sentiment among spanking fetishists.
Steve, the subject of the short documentary film The Spanko and a fixture in the NYC kink scene, is similarly obsessed with spanking but as the spanker, not the spankee. He explains in the film that he associates the discipline he delivers via spanking with caring and a desire to correct, which he feels he didn't get enough of as a child. For Vagabond, spanking is also an expression of erotic dominance, but with a focus on play and pleasure. Though he plays a good disciplinarian, the goal is much more about orgasms than absolution.
Caveats
It's worth noting that while some people who are into spanking may have been abused as children, correlation is not the same as causation. Research has shown that BDSM practitioners are no more likely to have experienced childhood abuse than vanilla people. (For the record, neither of us were spanked as children.)
It's also worth mentioning that some people who engage in spanking do so in religious or other ostensibly "domestic discipline" dynamics, and believe that spankings correct real-world behavior problems. There is no evidence that any form of corporal punishment has long-term corrective effects. There is copious evidence, however, that spanking in a consensual BDSM context can lead to a very hot good time, which is the focus of this post.
Finally, we want to acknowledge that some people in the spanking community prefer to distance themselves from BDSM. Many spanking clubs do not allow stereotypical fetish gear and instead have their own kinky rituals and traditions. Spanking clubs also tend to skew pretty heavily—if not exclusively—toward male tops and female bottoms. While we happen to fit those gender roles, we believe spanking is for anyone who's interested in it regardless of gender or orientation.
Communication and Negotiation
Well before you start a spanking scene, you should negotiate, meaning discuss likes, dislikes, and limits. For instance,
How will the spanking be delivered? With hands only or will implements be involved?
Does the bottom or top have any physical limitations that could be an issue (e.g., sore or sensitive spots, injuries, mobility issues, etc.)?
Does the bottom or top have any relevant emotional limits (e.g., history of physical trauma, etc.)? If so, what might trigger these limits, how can those triggers be avoided, and what should be done if the person feels triggered during the scene?
Will the spanking include any kind of sexual activity? If so, what?
Will the spanking be couched within a specific role-play scenario (e.g., teacher/student, boss/assistant, etc.)?
What sort of language will the top use during the scene (if any)? Some bottoms have very specific turn-ons when it comes to this, such as language associated with scolding.
How does the bottom usually react during spankings (e.g., screaming, crying, becoming nonverbal)?
How will you check in throughout the scene? "No" and "stop" should be respected unless the bottom has made it clear that these words should not be taken at face value. If that's the case, what safeword will you use?
What are each person's aftercare needs?
During the negotiation, you should also discuss what you each want to get out of the scene. In other words, what goal feelings are you aiming for? For instance, if the bottom just wants a light spanking to put them in a submissive mindset, but the top is intent on administering a hardcore punishment, their goals aren't aligned. Similarly, if the bottom is seeking catharsis and wants to be spanked until they're crying and screaming, and the top is interested in a little spanking as foreplay, the scene isn't going to go well.
Spanking Techniques
For people who are new to spanking, it's important to experiment and practice to learn how different types of spankings feel and what the bottom's reactions are. Some people advocate using a 1–10 calibration system, 1 being the lightest spanking and 10 being the heaviest, to gauge what level works best for the bottom. However, this method has limitations. A particular level of spanking is going to feel different at the beginning of a scene versus 20 minutes in. A more effective method of assessing intensity could involve the bottom indicating through a stoplight system what's good (green), what's bordering on too intense (yellow), and what their limit is (red).
Positions
Different spanking positions create different effects both physically and mentally. Here are some of the most popular ones.
Traditional over the knee (OTK). This is perhaps the most classic spanking position and puts the bottom in a position of powerlessness. For that reason, this position lends itself well to humiliation scenes. The top sits on a low stool or chair, and the bottom arranges themselves face-down across the top's lap while placing their hands on the floor for support. As you can imagine, this position isn't super comfortable, particularly for larger bottoms and smaller tops. It also tautens the skin of the butt, which makes spankings feel stingier (which is a plus for a lot of people).
Modified OTK. A modified version of OTK involves the top sitting on a bed or the floor while the bottom stretches across their lap. This position is one of our favorites and the one we use most often because it doesn't put undue pressure on the top's legs and doesn't require the bottom to brace themselves on the floor. It's a great position for a lengthy spanking because it's fairly comfortable and doesn't tauten the butt quite as much as a traditional OTK. It also allows for genital grinding.
All fours. This position is exactly what it sounds like. The bottom gets on all fours, giving the top easy access to their butt (and genitals, if desired). This position isn't as easy to maintain as a modified OTK since the bottom has to support themselves with their arms. It's still a fun one, though, and can make the bottom feel very exposed.
Standing. Standing allows the skin on the butt to be fairly relaxed, but because this position requires the bottom to constantly maintain their balance, it can distract from the spankings. Even more challenging than standing upright is standing and bending over. Not only does this tighten the skin on the butt, which makes the spankings feel more intense, it requires even greater effort to remain upright. A nice alternative is to have the bottom bend over a piece of furniture, such as a table or a couch, which provides some stability.
Positions for intercourse. If you want to combine spanking and intercourse, reverse cowgirl is probably the easiest position for this, as it gives the top easy access to the bottom's ass. A modified missionary position where the top is kneeling and the bottom is on their back also works for inner thigh slapping.
Hitting
Spanking isn't particularly difficult to get the hang of, but there are a number of tips to consider before you start.
Basic Technique. The top should start by touching the bottom's ass to match the shape of their hand to it. Then, the top can lightly spank while keeping their hand slightly contoured and their fingers together. Spanking this way ensures that the entire hand makes contact with the bottom's butt, which grants the top improved spanking control and finesse. To increase intensity, the top can consider both the strength of the swing and the shape of the hand.
Warm-ups. It's important to start with light spankings. A warm-up gets the bottom's blood circulating while helping them relax and get into the scene. It also gives the top an opportunity to ease into the scene and gauge the bottom's reactions. There's no set time limit for a warm-up. It depends on the intensity level you plan to escalate to later. If you're going to max out at a level 4 spanking, you don't need to spend as long on a warm-up as you would if you plan to get to level 10. Regardless of intensity level, we do not advise skipping a warm-up. Even if the spanking is part of a punishment and a warm-up seems too "nice," the top can hit harder right away over clothing (like jeans) to give the illusion of a more severe punishment. Then, by the time the bottom's clothes are off, they've actually already been warmed up and the top can keep going at that intensity level or higher.
Target areas. When spanking, your goal should be to hit primarily the middle to lower part of the butt cheeks because those are the areas that are most padded. Avoid hitting the tailbone or upper part of the butt. The upper thighs are also fair game for many bottoms; the lower thighs are dicier, as that part of the leg tends to be more sensitive.
Intensity. Light spankings don't have to be confined to the warm-up; they can be used throughout the scene to mix things up. If the top uses their entire hand (see Basic Technique above), this can result in a gentler spanking because more surface area is involved. To ramp up the intensity of the spanking, the top can flatten their hand. Because the butt is curved, flattening the hand means less surface area makes contact with the bottom's skin resulting in a much stingier spank. The top can also put more force into each spanking. Keep in mind, however, that tops should never hit with 100 percent of their strength. The goal in BDSM is not to do real damage to the bottom—or the top! Another way to intensify spankings is to hit when the bottom's ass is wet. This increases the sting factor quite a bit.
Rhythm. Once you move past the warm-up to the main event, it's important to keep things interesting. Don't just mechanically spank in the same pattern; vary the intensity of your spankings and the location. Keep the bottom guessing by taking short breaks to caress or rub their butt before spanking again.
Marks. It's extremely difficult to predict whether a spanking will leave marks, as some people mark more easily than others both generally and from scene to scene. Newbies are more likely to mark than seasoned spankees. Some medications can increase the likelihood of bruising, such as ibuprofen, aspirin, and other blood thinners. The same is true of alcohol. Using certain implements, such as a cane, are pretty much guaranteed to cause bruising. On the other hand, spanking someone through clothing and a lengthy warm-up can reduce the likelihood of bruising.
Noisy/quiet spankings. To make spankings louder, the top can curve their hand to maximize surface area and hit with more speed. To make spankings quieter, there aren't a lot of options unless you're hitting extremely lightly. This is why we recommend punching if you're interested in quieter impact that doesn't involve implements.
Implements. Some spanking aficionados prefer hand spankings and nothing else; others like to add implements into the mix. The most common implements for spankings include paddles, belts, hairbrushes, and wooden spoons. What these objects are made of and how they're shaped dictates how they feel. The harder the materials and the smaller the surface area, the more it will hurt. For very long spanking scenes, implements might be necessary to give the top's hand a break. Before using any implement on a bottom, a top should test it out on themselves to see how it feels.
Other Considerations
Mental/emotional component. Most of what we've addressed has to do with the physical aspects of spanking, but often, the mental and emotional parts of a spanking scene are more integral than the spanking itself. This is particularly true for discipline-focused scenes. In the words of Margaret Davis, founder of the Spanking Club of New York, "pain is not as big a part of the punishment as people think. A serious spanking scene—one that makes a submissive feel humble and forgiven—takes carefully crafted mental and verbal skills that pierce their way into the heart and mind of the one who is over your lap." If you're new to this kind of scene or are playing with someone new, discuss it with them to find out what their fantasy is and what mental and emotional components are needed to achieve it.
Advanced communication. For people new to spanking or new to playing with each other, there is no substitute for verbal communication and check-ins throughout the scene. The top should also take cues from body language, such as changes in squirming or involuntary attempts to block the top. Tops should be especially wary of pushing past boundaries if the scene has gone on for a long time and the bottom has built up endorphins to resist the pain or has entered subspace.
Marks and coloration. Coloration or redness is not always a reliable measure of pain or likelihood of bruising. For instance, some people's skin might turn pink, purple, or other hues fairly quickly, while others take much longer to show any physical signs of being spanked. And just because the skin changes color doesn't mean the bottom wants the spanking to end.
Pain processing. Like Mimsy, not all bottoms are masochists, and even the ones who are may still need to process the pain. To do so, Janet Hardy recommends the following tips in her book Spanking for Lovers: (1) stay as relaxed as possible throughout the spanking by periodically assessing where your body is holding tension and consciously making an effort to release it, (2) focus on breathing slowly, and (3) try thinking of the pain as something else, such as heat or a color. Mimsy finds reimagining the pain as heat to be especially effective.
Spanking Safety
Spanking is one of the safer BDSM activities in that people are unlikely to sustain serious or life-threatening injuries from it. That said, there are still a few safety considerations to keep in mind.
Bruises. As noted above, it's nearly impossible to tell how easily someone will bruise. Given that, don't ever promise someone you won't leave marks (if you're a top) or guarantee that you won't bruise (if you're a bottom). If unintended bruising occurs, you can apply an ice pack immediately after the bruises form, which reduces blood flow to the area and can diminish the size of the bruises. There's also some evidence that arnica gel helps reduce bruises.
Implements. At the risk of stating the obvious, don't ever hit someone with the buckle end of a belt. For other types of implements, make sure they're sturdy enough to withstand the force of the spanking and won't break or splinter.
Sore hands. If a spanking goes on long enough, it's possible the top's hand may get sore. Wearing gloves is one way to mitigate this; switching hands or changing to implements is another.
Leather butt. Over time, spankees can develop what's known as leather butt, a condition where the skin becomes thicker and tougher (like leather) due to repeated compression of the skin and nerve desensitization. At this point, the bottom will require more vigorous spankings to feel what they want to feel. To avoid leather butt, always do a warm-up, know when to ease up, and use implements less often than hands. That said, this is very much a "your mileage will vary" situation and likely not something most people need to worry about.
Additional Resources