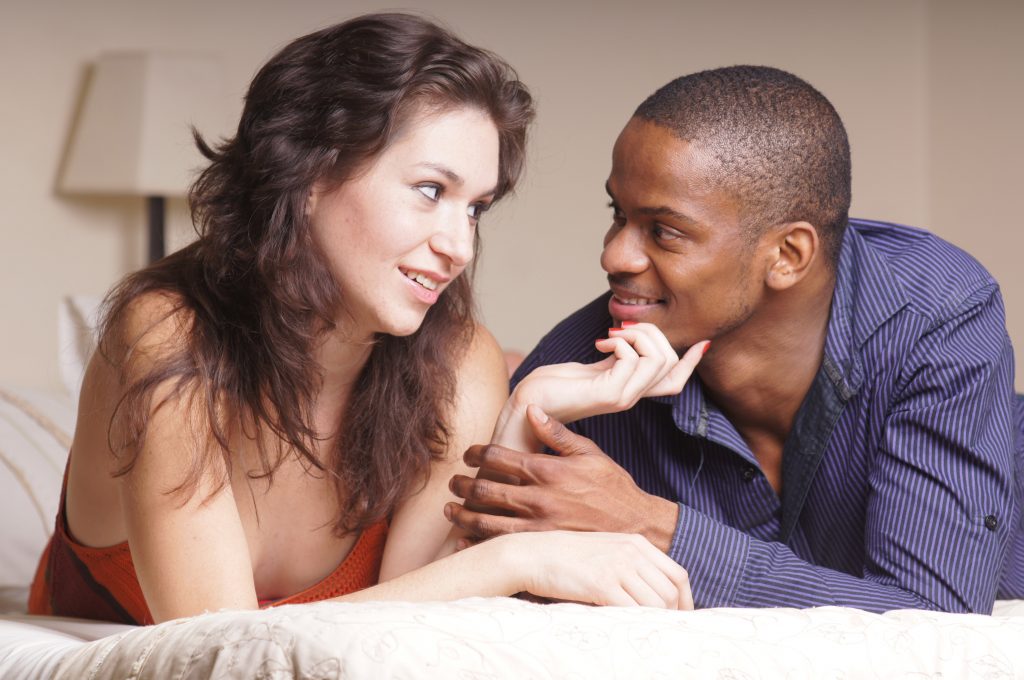 If you've spent more than a few minutes researching BDSM, you know that negotiation, or the process of deciding what will and will not happen in a scene, is one of the cornerstones. Much has been written about how to negotiate before a scene with a new play partner. Tools, from worksheets to checklists to illustrated guides, abound to help you cover all the bases and inspire you to dream up new fantasies. Here's how to take those negotiation skills and weave them into the fabric of your relationship.
BDSM Negotiation in the Beginning
Anytime you introduce a new BDSM activity into your dynamic, it should be treated with the same care and caution as the first time you played. As Jay Wiseman says in his classic book SM 101, "The best possible ending of a first session is with both parties feeling slightly frustrated and thinking that they could have gone further than they did." In other words, leave them wanting more.
With that advice in mind, choose one or two new activities that you'd like to try, and discuss them with your partner. Think about how those things might affect activities you've already consented to, and what new limits might be necessary to accommodate the new activity. Gradual changes like this allow for effortless communication that's built into your dynamic, from the first scene to the latest and kinkiest.
Vagabond and I established the basics of what we were into before we met (a D/s dynamic in bed, spanking, restraint, etc.). And we knew our chemistry was phenomenal after some passionate make-out sessions on our first date. But it wasn't until our second date when sex was a certainty that we chose safewords ("no" and "stop" were sufficient) and finalized our negotiation. It didn't involve filling out any forms or checking boxes, but rather a sexy conversation, punctuated by kissing, that went something like this:
Vagabond: So…where do you like to be hit?
Me: I like to be spanked and slapped in the face.
Vagabond: Good to know. What about here? [brushing one of my breasts]
Me: I'm not sure, but I'm interested in trying it.
Vagabond: And here? [touching my crotch]
Me: Maybe?
Vagabond: And here? [touching my thigh]
Me: Yes.
Vagabond: What else do you like?
Me: Hair pulling, choking, being pinned down.
Vagabond: Have you been hit with a belt?
Me: No, not yet anyway…
That very simple BDSM negotiation formed the boundaries of our first scene, in which Vagabond gave me an over-the-knee spanking followed by sex that involved choking, hair pulling, and forcefully pinning me down. We respected the limits we discussed, and Vagabond checked in by reading my body language and prompting me verbally. Rather than simply blurting out "Are you OK?" he said in a sexy voice, "You're turning pink. How does that make you feel?"
Afterward, we debriefed about the scene and folded in further negotiation by agreeing that we wanted to try rope bondage in the near future. I also let Vagabond know that he could choke me harder next time.
Building on Prior Knowledge
As the weeks and months went by and we got to know each other better, our negotiations evolved and became more nuanced because we were building upon prior knowledge. We had already established that I liked spanking, choking, and so on, so there was no need to continually renegotiate those activities. Instead, we reserved negotiations for stepping into new territory, which was and is something I, as a submissive, often initiate.
Early on, I broached the topic of CNC, which was something I had attempted to do in the past but had been shamed for. Vagabond was enthusiastically on board, so then we discussed how those scenes would differ from other scenes of ours. We agreed that they would involve a lot of struggling, grappling, and "forced" penetration in addition to things we normally did.
I was often the one to trigger these scenes by telling him earlier in the day that I was in the mood to fight back. Then, when the time came, he knew I would be responding more aggressively than usual. If I changed my mind in between the time I gave him the heads up and when we had sex, I would simply let him know I was no longer in the mood for that particular kind of scene.
Over time, we talked about intensifying our CNC play and doing more intricate scenes that involved more activities and physical space and required more planning. We communicated about logistics extensively to make sure we were on the same page, and I eventually developed a checklist to consult because there were so many details to take into consideration.
Part of this intensification included me hitting Vagabond much harder than I ever had in the past, which made me nervous. We decided the best way to approach this new element was to practice out of scene first so I would feel less hindered later. So, one night we sat on the floor facing each other, and he taught me how to hit him. I practiced on his chest, legs, and arms repeatedly as he gave me feedback. This combination of physical and verbal negotiation was an excellent way to learn and prepare.
Another interest that I brought up fairly early on was humiliation—specifically erotic slut shaming. This was something I had prior experience with but wanted to dive into a bit more. Vagabond had less experience in this arena and was hesitant because I was asking him to say misogynistic things he didn't believe. We discussed it and landed on a way for him to use the language so that it felt true to him while still being hot for me. In time, we've figured out ways to expand on the humiliation while sticking to both of our limits.
I have no doubt that we'll continue to negotiate other BDSM activities as we add things to our repertoire. At this point, negotiation is an organic part of our relationship and is one facet of an ongoing discussion within and about our dynamic. And this is how it should be. BDSM negotiation is only as effective as both people's ability to discuss what's working, what isn't, and what new frontiers you want to venture into together.