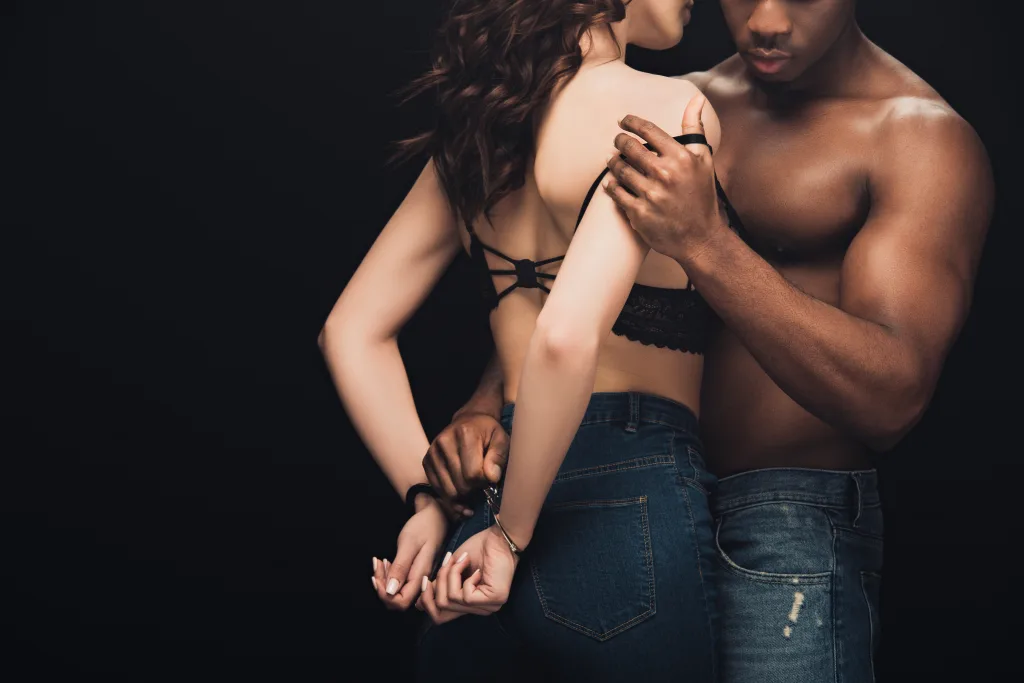 If you're a bottom or a sub, you may think your job in BDSM is to follow your dom's lead. After all, you're not the one tying people up or dishing out the punishments. But just because you're not in charge of the scene doesn't mean you aren't responsible for understanding what's happening and doing your part to ensure it goes smoothly. These BDSM safety tips will help you play more safely, stay informed, and have even more fun in your scenes.
Communication Basics
One of the most important aspects of BDSM safety is communication. As a bottom or sub, you must be willing to communicate your limits and needs to any potential play partners. In a lot of vanilla sexual encounters, especially straight ones, the people involved tend to make assumptions about what will and won't happen. This is especially ill-advised in BDSM because of the heightened potential for things to go wrong. Here are some questions to keep in mind when negotiating with a play partner. Remember that negotiation is not a one-way conversation. Both subs and doms should consider these questions.
What kind of scene are you negotiating? Once that's established, opt in or out of the activities that are a part of that scene. This is easier than coming up with a huge list of everything you don't want to do. For example, if you're negotiating a spanking scene, you should specify if there are any body parts that are off limits and whether genital contact is welcome or not.
Do you have any injuries or health conditions that might interfere with the scene? For instance, if you know you have knee problems, kneeling or crawling might be off limits for you.
Do you have certain triggers that will cause you to shut down or react badly? For example, maybe there are certain words that are a no-go because you find them offensive. For me, this includes any words that insult my intelligence.
Is sex on the table? If so, what specific sexual acts?
You might think that discussing these types of questions before you play is too clinical or unsexy, but you don't have to approach negotiation like you're answering a survey. The short kinky film Red features a great example of how to use flirting to negotiate with the sub taking the lead. In it, a man and a woman on a date in a coffee shop begin talking about the importance of asking for what you want. This gives the woman (the sub in this case) the perfect opening to tell her vanilla date that he doesn't have to be so nice with her in bed. She then explains the basics of how a scene works. He seems skeptical about discussing the details ahead of time because he's afraid it will limit spontaneity, but she quickly changes his mind by sexily explaining exactly what she wants done to her. He then admits to having had dominant fantasies that he's never acted on, and she asks if he wants to try it out. Things really start to heat up from there.
Vetting Potential Tops
As a sub or bottom, it's a good idea to learn some basic things about any top or dom you intend to play with. This can be easier said than done, however. If the person is a member of a public kink community, you can ask around to see what the person's reputation is. This can be especially important for riskier types of play such as rope bondage. In fact, there's a rope bottoms' share group specifically for this purpose. It's an online discussion group run by and for rope bottoms (or switches who wish to participate as bottoms). The main purpose of the group is to support one another as rope bottoms and vet tops. (You must be a member of FetLife to access the link).
If the person you're interested in playing with isn't part of a local kink scene, there are still ways you can suss out important information about them. Here are some questions to consider.
Are they a decent person or just an asshole in disguise? This might take multiple interactions to figure out, but is important to know. If you're a woman looking for a male top, it's especially important to look for indicators of misogyny. If you're treated like a piece of meat without an invitation, steer clear.
What type of dominant are they, and is their style what you're looking for? For instance, if they primarily identify as a sadist and you aren't much of a masochist, it might not be the right fit.
Do they expect too much too soon or have unrealistic expectations? There are countless stories of doms reaching out to prospective subs online and immediately making absurd demands. Reject these people.
Do they have an interest in you as a person beyond your submissiveness? Even if you're not looking for a serious relationship, a good dom should recognize that you're a whole person.
How much experience do they have, and more importantly, does it seem like they're being honest about it? The last thing you want is someone who purports to be an expert on something when they're really a novice. You may need to reassure them that it's OK if they're still learning since doms can sometimes feel pressured to represent themselves as more experienced than they are. Make sure your dom communicates honestly and clearly about how much experience they have, and play safely within your experience levels.
The Importance of Education
One of the best ways you can mitigate risks in BDSM as a sub is to educate yourself on the activities you want to participate in. Just because you aren't the one performing the acts doesn't mean you shouldn't understand what they entail. A key part of BDSM safety is to know enough to know whether a top is doing something wrong. For instance, if you're into rope bondage, you might not need to learn intricate ties and knots, but it's crucial to understand basic anatomy so you can spot signs of circulation loss or nerve damage. Similarly, with impact play it's important to know which parts of the body aren't safe to hit.
Speaking Up for Yourself
Just because you're a bottom or a sub doesn't mean you give up the right to have opinions and thoughts about the scenes you choose to be in. If something doesn't feel right to you, either in the negotiation stage or during the scene itself, speak up. I can't emphasize this enough. I'm not necessarily talking about sexual assault or abuse, which can elicit a variety of responses that are out of our control. I'm talking about more mundane problems that don't rise to that level but still need to be addressed. For instance, if you're being tied up and a wrap starts to cause unsexy discomfort, it's not your job to suffer in silence. You have every right to ask the top to adjust the rope accordingly.
If you doubt your ability to advocate for yourself in this way, practice! Practice using safewords and providing feedback during a scene. One way to normalize using safewords is to ask your dom to check in and tell you to pick a color during a scene (green, yellow, or red).
Altered Mental States
There's a reason a lot of BDSM events don't serve alcohol: it impairs judgment and can increase the risk of something going wrong. Of course, plenty of kinksters play under the influence, but I advise extreme caution if you choose to do so even when playing in an established relationship. Alcohol in particular can deaden sensation and make it difficult for you to tell when things have gone too far. Likewise, if a top is under the influence, you can't trust that they're truly in control either physically or mentally. In general, it's best if everyone involved in a scene has their wits about them.
Similarly, I don't advise playing if you're in an unhealthy state of mind. What that entails varies from person to person, but if you're feeling self-destructive or are seeking out BDSM as a form of real-life therapy or absolution, it's likely to do more harm than good. BDSM should leave you feeling good and satisfied, so make sure you're playing for the right reasons.