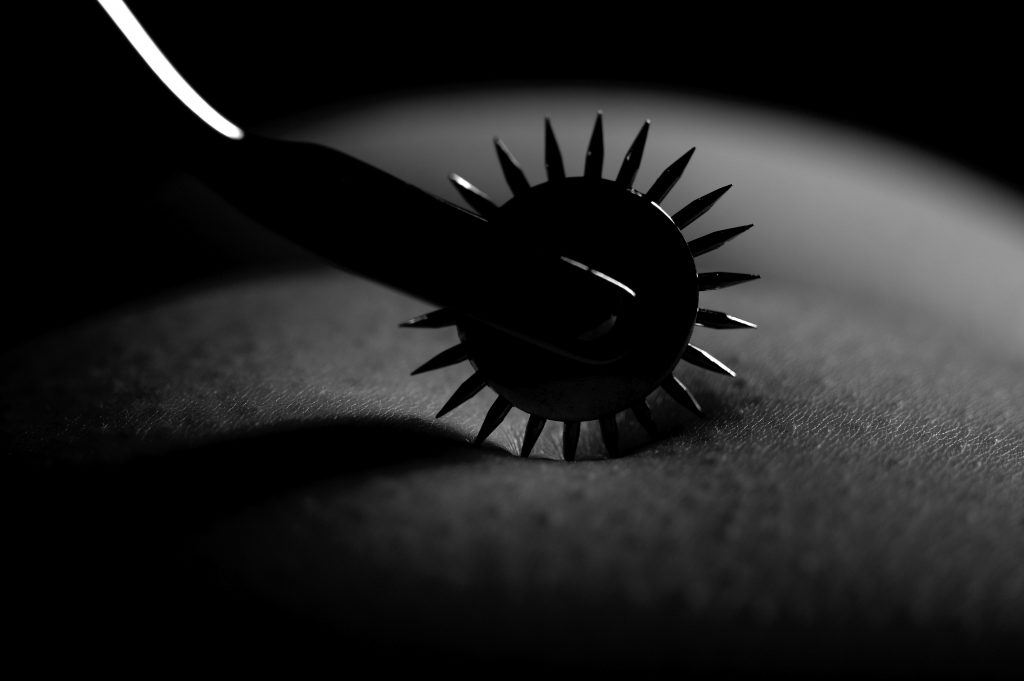 Would you let someone you don't trust spank you, tie you up, and call you names? Probably not. Trust is integral to a BDSM relationship and is ultimately what makes any kind of power exchange so hot. Taking another person's control away or letting them take it from you is thrilling, risky, and raw. Without trust, neither partner can completely let go and enjoy the moment. But with trust, BDSM and power exchange can bring partners closer together and eventually pave the way to rougher or riskier play.
Communication is Key
Building trust in a BDSM relationship—or any relationship, for that matter—is impossible without communication. And the more openly and honestly you communicate with your partner, the more you'll trust each other. Obviously you need to discuss hard and soft limits, but it's equally important to talk about each other's desires and fantasies and listen non-judgmentally. It's also crucial to be able to truthfully debrief after scenes and go over what worked or didn't work and why.
If you know you can communicate your feelings and ideas without fear of criticism or rejection, you're more likely to keep doing so throughout your relationship. Conversely, if you get into the habit of hiding how you really feel about various aspects of your dynamic or reacting negatively when your partner tries to communicate, trust will erode. Good communication fosters trust, and trust, in turn, fosters more and better communication.
One of the most basic tests of trust in a BDSM relationship is honoring limits and safewords. But to respect limits, one must be able to communicate them first. Years ago, during a negotiation, Vagabond asked a sub what she was into, and she replied, "you know, the usual." Due to her inability to communicate what she wanted, the resulting "scene" was borderline vanilla since Vagabond had no information with which to construct an actual scene.
On the other hand, when Vagabond and I first started dating, even though I didn't have as much experience as he did, I was very clear about what I liked and didn't like and what I wasn't sure about but was willing to try. Right off the bat, my transparency and honesty allowed him to trust me.
Trust Fosters Vulnerability
Once you've established a level of trust where you know you and your partner will respect each other's limits and communicate openly, the real fun can begin because you'll be able to let go and focus on using trust to deepen your connection. One of the most intense and hottest ways to do this is to allow yourself to feel vulnerable.
Exactly what elicits feelings of vulnerability varies from person to person. For me, it's direct eye contact during sex. Before I met Vagabond, I was rarely, if ever, able to look directly at anyone I was fucking and would even fling an arm over my face for extra measure. But once I trusted Vagabond and knew he would never do anything to non-consensually hurt or humiliate me, I was able to make eye contact during our scenes. I even became comfortable with him using this specific vulnerability to his advantage as a dom. Now, it's always an enormous turn-on—for both of us—when he commands me to look at him.
Trusting your partner enough to let them exploit your vulnerabilities for your mutual pleasure is hugely connective and cements trust even more.  
Trust Opens the Door to Edge Play
The more you and your partner trust each other and communicate effectively, the more you'll feel comfortable exploring new kinks and taking risks together. When Vagabond and I got involved, I didn't have any experience playing with sharps, but was interested in him using a Wartenberg wheel on me. Risk of serious damage from a wheel is fairly low, but I loved the thrill of imagined danger.
As time went on, my love of the wheel combined with my trust in Vagabond led me to become attracted to a bit of real danger and fear. We started researching sensual knife play and ended up buying a carbon steel knife for that purpose. Knife play is now one of our favorite kinks in large part because of the amount of trust it requires. Vagabond has to trust that I'm not going to flinch at the wrong moment, and I have to trust that he's not going to lose his grip on the knife or let it slip. There are real risks involved.
And while implicit trust doesn't guarantee that an accident isn't going to happen, it does ensure that we're both going to do our part to be as careful as possible to avoid one. This knowledge allows us to let go and fully enjoy the highly erotic combination of trust and risk.          
Consensual non-consent (CNC), another kink that involves high levels of trust and communication, was a core kink of mine before Vagabond and I met, but I hadn't been able to act on it yet. I had approached a previous partner about doing a CNC scene and had thoroughly laid out limits and expectations. He agreed at first, but later confessed that he believed only a sociopath would be interested in CNC and backed out. Needless to say, any trust that had existed between us prior to that—which had been tenuous to begin with—was shattered in one blow, and I spent months wondering if something was wrong with me.
In contrast, Vagabond was completely accepting of my desires and wanted to fulfill them. We started by incorporating some moderate struggling into our scenes and then worked our way up to full-blown take-down scenes involving rope and a knife.
This type of scene requires perhaps the highest degree of trust because so many things can go wrong both physically and emotionally. Not only do you have to trust each other not to inflict serious bodily harm, but you need to be relatively assured that you can both handle the emotional weight of the experience or know how to respond if unexpected triggering occurs.
As with knife play, trust doesn't eliminate all risk in CNC, but it mitigates a certain kind of emotional risk because you know your partner has your best interests at heart.        
Trust Must Go Beyond the Bedroom
The only way to build intense in-scene trust in a BDSM relationship is to foster it outside the bedroom as well. It's crucial for both people to feel confident that their partner isn't going to use anything that happens in a scene against them outside the scene. For me, this is particularly true with humiliation, which is my least favorite emotion in non-BDSM contexts, but one of my core kinks within BDSM. Bridging that gap can be nearly impossible if you don't trust that the person calling you a whore or a cunt doesn't actually think of you that way in real life. I've been in that situation, and it's unpleasant at best and emotionally damaging at worst.
The reason I enjoy humiliation so much with Vagabond is because I have complete confidence in his respect for me as a woman and a person. For his part, as someone who wasn't initially comfortable with verbal humiliation, Vagabond needed me to know that when he calls me a dirty whore, it means he wants me uncontrollably in the moment, not that he thinks less of me.
Trust Leads to Long-Term Passion
With increased trust comes increased familiarity. In a BDSM relationship, this means the more kinks you explore together and the more you communicate with each other about your likes and dislikes, the more your intimate knowledge of each other will grow.
As the therapist Esther Perel notes, familiarity often smothers the flames of desire, but, in our experience, it can also kindle them, particularly in BDSM relationships where trust is so essential. When I say to Vagabond, "you can do anything to me" during a scene, it's not just a throwaway line. It's an invitation to do exactly as he pleases because I know I can trust him entirely. And that knowledge gives me the freedom to completely surrender to him, which is the hottest thing of all.