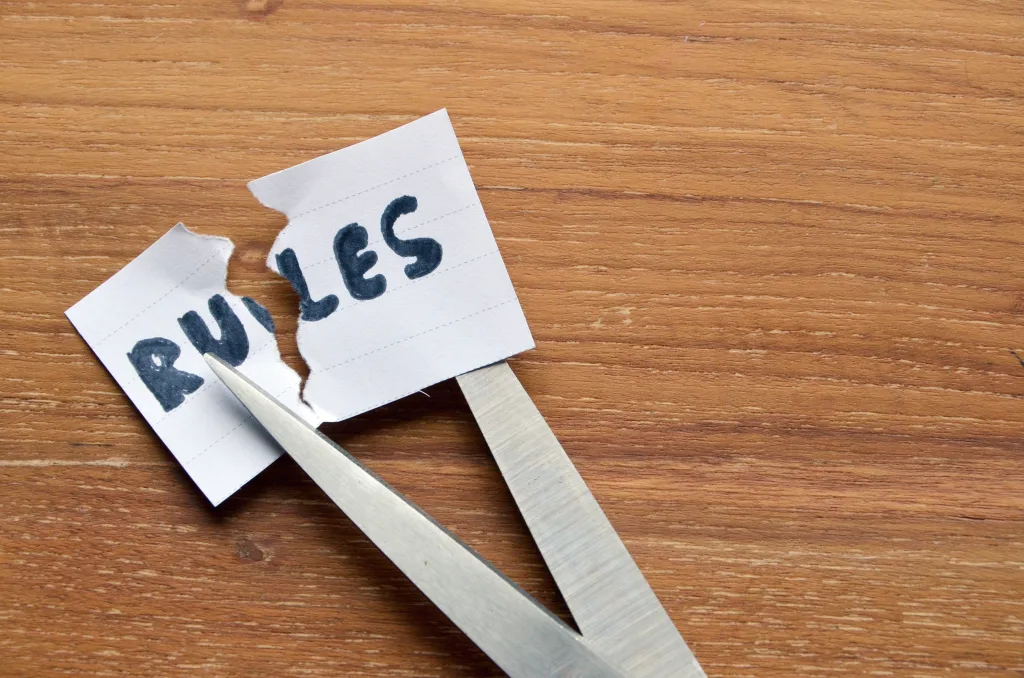 When I first realized I might be kinky and started researching BDSM, I wondered whether the abbreviation described me. I knew I was sexually submissive, but I wasn't a masochist, nor was I interested in a 24/7 dynamic. Yet everything I read online led me to believe those were natural, if not essential, traits and goals for a submissive. It took some time for me to realize that many BDSM "requirements" aren't requirements at all and that beyond a few basic principles, there's no one true way to do any of it.
The Fundamentals
While BDSM is essentially "choose your own adventure," there are a few core tenets that practitioners should keep in mind:
Consent. Consent is always what separates sex and assault, but the concept is drilled into BDSM players repeatedly because there's a greater risk for what we do to be misconstrued as abuse. It's also the cornerstone of the BDSM mantras safe, sane, and consensual (SSC) and risk-aware consensual kink (RACK). RACK in particular makes it clear that a plain old "yes" isn't good enough. Consent should be informed (risk-aware), enthusiastic, and ongoing.
Negotiation. This is the process of deciding what will and will not happen in a scene. It can involve filling out a detailed checklist of likes, dislikes, and limits, or it can occur as a conversation. The method doesn't matter as long as you're doing it. Negotiation gives you the information you need to have the best scene possible because you know the other person's needs, desires, and limits before you even start.
Communication. Consent and negotiation both involve communication, but it's essential to communicate beyond an initial negotiation. If something isn't working for you (or is!) during a scene or in an overall dynamic, talk about it. Vagabond and I often discuss what we liked or didn't like immediately after a scene as a kind of aftercare. Communication helps build trust, which is foundational to successful BDSM.
Take It or Leave It
Aside from the basics mentioned above, the rest of BDSM is a grab bag of activities and ideas that you can pick and choose from to suit your tastes. This list calls out some of the most popular BDSM "requirements" that are, in fact, completely optional. The key is to design a dynamic that meets your and your partner's needs, not mimic someone else's dynamic.
Rules and punishment. Within a D/s dynamic, doms sometimes establish rules for subs to follow and punish or discipline them when they don't to modify and correct the sub's "bad" behavior. It's so difficult to find descriptions of D/s dynamics that don't include rules and punishment that I sometimes wonder if there's a worldwide conspiracy afoot. In reality, formal discipline doesn't fit into a lot of D/s relationships, including ours. While dominance and submission does imply some level of power exchange (the sub gives up control to the dom), there's no reason to force rules and punishment into your dynamic if it doesn't interest you.
24/7. Similar to rules and punishment, it sometimes seems like 24/7 BDSM dynamics are ubiquitous. But in fact, only a small fraction of kinksters identify as "24/7," the meaning of which varies dramatically depending on the people involved. Most of us are engaging in bedroom-only BDSM or some other part-time dynamic. Do whatever appeals to you and works best with your lives and schedules. 24/7 isn't the top rung of a BDSM ladder that everyone needs to climb. BDSM is a spectrum, not a hierarchy.
Contracts. While some people use formal contracts to spell out all the terms of their BDSM dynamics, this isn't as common as 50 Shades of Grey made it seem. If codifying all the ins and outs of your relationship is important to you, then a contract might be worth looking into. But it's certainly not a BDSM requirement and probably isn't necessary for most dynamics. Even if you do have a contract, it should never take the place of regular communication about what is and isn't working in the relationship.
Impact. A lot of subs think they aren't "real" subs unless they're masochists. I thought this when I was new because the two seemed to go together for so many s-types. But in reality, plenty of subs are not into pain, and that's OK! BDSM doesn't have to involve impact at all. And if it does, it can be tailored to the sub's level of comfort. Vagabond and I do engage in impact, but my pain tolerance is low so it might not seem intense compared to some players in the scene. What appeals to me about impact is intimacy as opposed to pain, so bare-handed spanking is my favorite form of impact.
Honorifics. I see so many posts in online BDSM forums from people who don't like the most common titles, or honorifics, used in BDSM (mistress, sir, daddy, etc.) but feel they're stuck with them anyway. There is no BDSM requirement to use honorifics. Some people love them and like how they enhance feelings of dominance and submission, but other people find them awkward or ill-fitting and don't use them. Personally, I don't like them because they seem too overtly roleplay oriented, so I've never used them.
Collars. You've undoubtedly heard that collars in BDSM are the kinky equivalent of a wedding ring. And sometimes they are—but sometimes they aren't. Collars can mean whatever you want them to mean. They can symbolize lifelong commitment or be worn only during play or merely as a fashion statement. My collar is simply another toy for us to use during play. I also have an understated o-ring necklace that I wear in public when I feel like it. When I do, it's a fun D/s reminder. The important thing is for you and your partner to agree on the significance of any collar you plan to use so you can avoid potentially awkward or hurtful misunderstandings.
The BDSM community. If you're interested in BDSM but don't want to attend community events, such as munches or parties, you don't have to. While it can be rewarding to get to know other kinky people who share your interests, the kink community isn't immune to the problems that plague all special interest groups. There are scandals, factions, and disagreements. But there are also great classes, conventions, and parties. Pick the level of involvement that suits you, from none to becoming a community leader and everything in between.
Safewords (sort of). To be clear, we're not against safewords and usually advise that people have them. But contrary to popular belief, "no" and "stop" can function as your safewords and must always be respected unless you negotiate otherwise. Also, some people have such a high level of trust with their partners that they can comfortably play without safewords. We don't recommend that for newbies, but it's a valid way to play for some advanced kinksters.
Aftercare (sort of). Like safewords, aftercare is another concept that's constantly presented as a necessity in BDSM. Although it's true that you should always discuss aftercare needs during negotiation, some people (like me) may not need aftercare. Other people may have uncommon aftercare needs. Everyone is unique.