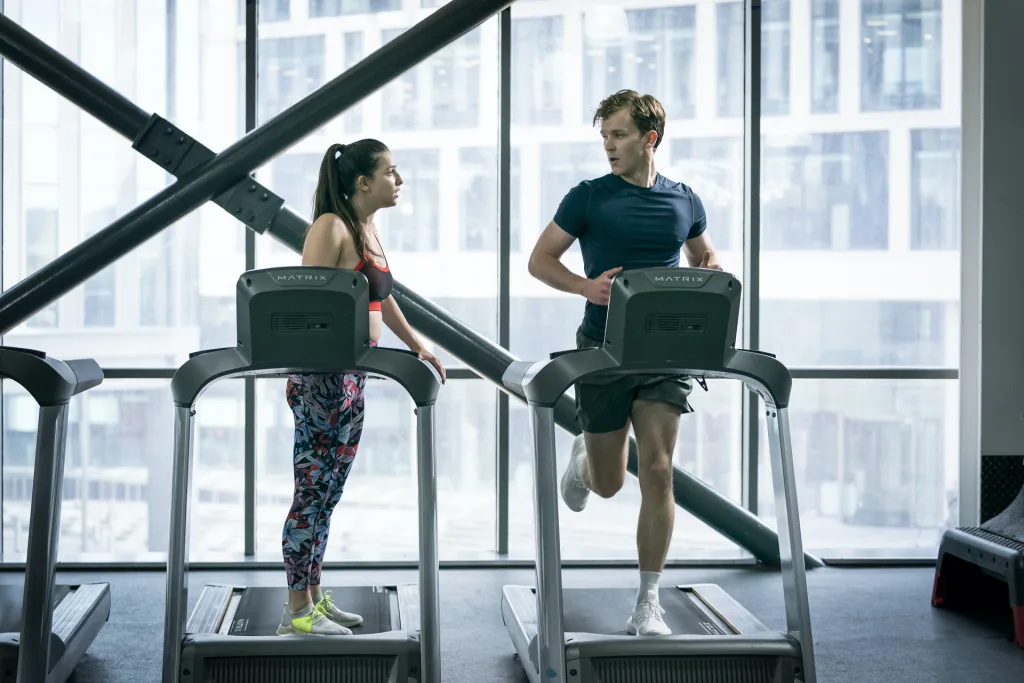 As an Amazon Associate, we earn from qualifying purchases made via some of the links below (at no additional cost to you).
Some of the best depictions of BDSM—specifically D/s—on TV appear in shows that aren't about BDSM at all. And sometimes the D/s is so subtle to those who aren't in the know that it escapes reviewers' attention. But that's part of what makes it so fun to spot if you are kinky! It's like you and the writers are in on a little secret. In this post, we'll explore some of the best examples of BDSM and D/s on TV that are hiding in plain sight.
Although much has been written about Killing Eve, the obvious D/s themes have largely been overlooked. They're hard to miss, though, if you know anything about power play, especially in seasons 1 and 2.
The show focuses on Eve (Sandra Oh), an uptight intelligence agent, and Villanelle (Jodie Comer), the charming sociopath assassin she's tracking down. The two women have a switchy, narcissistic voyeurism/exhibitionism dynamic that permeates the series. Throughout, Eve and Villanelle take turns getting off—literally and figuratively—to watching or being watched by the other and, at times, mirroring each other's behavior.
In one of the kinkiest interludes in season 1, Villanelle steals Eve's suitcase and takes it back to her hotel. She goes through the contents and selects one scarf to keep for herself. When Eve's stolen suitcase shows up at her home in London, she opens it expecting to find her belongings. Instead, she discovers that they've all been replaced with beautiful, expensive designer clothes along with a bottle of Villanelle's namesake perfume and a note from the killer herself. In a later episode, Eve puts on some of the perfume as well as a slinky black dress from the suitcase that fits her perfectly. She admires herself in a full-length mirror, leaving her hair down just as Villanelle instructed her when they first met in a hospital bathroom before they knew each other.
The switchy dance of dominance/submission and voyeurism/exhibitionism that's established in season 1 is amplified in season 2. The dynamic becomes overtly erotic in episode 5, when, upon learning that Eve is her next target, Villanelle sends her a funeral wreath spelling "Eve." After seeing the flowers on her doorstep, Eve is instantly turned on and solicits sex from her husband, with whom she's had a strained relationship for quite some time. The idea of Villanelle tracking her movements is all the aphrodisiac she needs.
The D/s themes become less prominent after season 2, but an excellent scene in season 3 brings them to the fore once again. In the third episode, Eve is minding her own business on a bus when Villanelle suddenly appears in front of her. They immediately begin fighting—slapping, screaming, and hurling each other from seat to seat. You almost wonder if this is a dream of Eve's, but it isn't. At one point, Villanelle pins Eve under her and they kiss right before Eve head butts her. Villanelle eventually gets off the bus, and Eve goes to work disheveled and stunned. In keeping with their switchy dynamic, there is no clear winner.
The D/s dynamic between Roman Roy, an heir to the Waystar Royco fortune, and Gerri Kellman, the company's general counsel, in Succession is too obviously kinky to be ignored. This is likely why it's received far more media coverage than the other duos featured in this post, even though it takes up less air time.
In fact, the dynamic doesn't even get going in earnest until season 2. Roman (Kieran Culkin) refers to Gerri (J. Smith-Cameron) as "Mommy" a couple of times early in the season. Then, in episode 4, Roman calls Gerri after an unsuccessful attempt at phone sex with his girlfriend. Gerri insults his business ideas, which, unbeknownst to her, is exactly what turns Roman on. She tells him to masturbate all his bad ideas out, and he takes it a step further by actually starting to jerk off. Gerri plays along, calling him a "disgusting little pig." "You're pathetic," she continues with gusto. "You are a revolting little worm, aren't you? You little slime puppy."
Although Roman's humiliation fetish is never discussed in BDSM terms, it's clear that's what it is. He's seemingly unable to have sex without it, and he finds more conventional sexual tastes to be a total turn-off. This is why he couldn't get into phone sex with his girlfriend—or in-person sex, either, for that matter.
He and Gerri have another humiliation scene in episode 5, this time in person. Roman goes to Gerri's room during a company/family retreat to blow off steam and asks if they can have one of their special sessions. At first, it seems like Gerri isn't into the idea, but it quickly becomes clear that she's seamlessly segued into a scene. She tells Roman his family would be ashamed of him if they found out about his sexual predilections and that he's a "sick fucking animal." She instructs him not to look at her and commands him to go in the bathroom and stay there until he's jerked off. She closes the door and continues humiliating him on the other side until he comes.
Unfortunately, this is the pinnacle of their dynamic. It devolves as the series goes on, consisting mostly of the two hurling flirty barbs at each other. It's unclear why it wasn't developed further; the show could have used an interesting subplot like this to break up the endless corporate scheming that dominates otherwise.
The dynamic between Yasmin (Marisa Abela) and Robert (Harry Lawtey) in the investment banking show Industry is also a female-led humiliation dynamic. But, unlike the dynamic in Succession, this one has been viewed by the media as less kinky and more abusive. We think that's an erroneous take, though.
Early on in this show about a group of young people who work in a cutthroat investment banking firm in London, we learn that Yasmin has kinky tastes that her boyfriend doesn't share. But she finds a willing participant in Robert, one of her coworkers. Their flirtation is wordless at first, but that doesn't prevent it from having D/s overtones. In episode 2 of season 1, they share a cab with some other people after a work gathering. Yasmin gives Robert a suggestive head nod as if to say they should get out together. He stops the cab and gets out, but she closes the door and leaves him standing on the street corner alone. This just seems to intrigue Robert more.
When Yasmin gets home, she instructs her boyfriend to eat her out in the kitchen. As he complies, she snaps a picture and texts it to Robert saying "I love my boyfriend." A bold move from a woman who comes across as rather meek at work compared to her aggressive colleagues. Clearly she thrives in D/s territory, however, and is willing to risk sending Robert a photo that could backfire in a thousand ways. The risk pays off, though, as he's clearly titillated by it.
The next day, Yasmin approaches Robert while he's running on the treadmill at the company gym. She looks at him intensely and he asks if she's OK. She responds by upping the speed on his treadmill until he's sprinting. Then, at a house party for another character's birthday, Yasmin suggestively puts the end of a balloon in her mouth and tugs on it then tells Robert she'll watch as he blows it up. He inflates it and then inhales and exhales from it in an intriguing form of breath play as she looks on.
Later, at a meet and greet with college students at their company, Yasmin wonders aloud if any of the students are rating their attractiveness. Robert says he's pretty sure he could fuck anyone he wants at the event. She pointedly replies, "Not anyone, Robert." At that moment, they get attacked with paint bombs by a protester and retreat to the bathroom together to clean up. Robert asks if she wants to get a drink after work, but she says she has plans with her boyfriend. She then accuses him of not fucking anyone despite his earlier claim.
After work, Robert arrives at the same pub where Yasmin is meeting her boyfriend. While the boyfriend is getting a drink at the bar, Robert sits next to Yasmin and tells her he hooked up with one of the students—a dude who blew him. She tells him his account is utterly unbelievable but nevertheless slides his hand under her skirt and says that she's going to remove her underwear in the bathroom and then slip them in his pocket. She tells him to put them on his face, take a picture, and send it to her because "that's all you're good for." Robert looks stunned at first but then starts smiling.
Their kinky dynamic reaches its climax at the company holiday party, where Yasmin pulls Robert away to the gym changing room and unbuttons her blouse. She then tells him not to touch her as she proceeds to give him a hand job. She instructs him to let her know when he's getting close like a good boy. When he does, she tells him to finish himself off. He comes, getting some ejaculate on the full-length mirror. Yasmin then commands him to eat it off the mirror. Robert says "what?" incredulously. Yasmin apologizes and asks if that was too much (a nice check-in moment). Robert says nothing. He simply goes to the mirror, wipes his cum off it, and slowly sucks it off his fingers in front of her. These two seem like a match made in heaven at this point.
Sadly, their connection starts to fizzle after this encounter as other interpersonal dynamics and work stress interfere. Many viewers seemed to applaud the demise of their involvement, accusing Yasmin of being one of many coworkers who treats Robert poorly and takes advantage of him. But to us, Robert seems like a willing participant every step of the way.
When season 2 opens, Yasmin is busy with her own kinky sexual encounters. And we learn that Robert can't seem to come anymore during sex with various partners. A reason isn't given, but we can't help but wonder if it's because he's no longer getting the humiliation he seems to enjoy.
He soon rectifies this problem with a predatory older female client who has a history of making sexual advances toward her sales reps at the investment bank. After a successful dinner, she makes a move on Robert during the ride home and gives him a hand job in the car. She tells him to just enjoy it and instructs him to come in her hand, which he does. There are clear D/s vibes developing between the two of them. The next day, he calls her to execute a deal and she makes him say "please" on the phone and calls him a good boy. Is this relationship healthy? No, but it seems to scratch some hard-to-reach itch of Robert's.
In episode 3, Robert and Yasmin have a frank discussion about their previous flirtation/involvement. He says that he doesn't think he would have debased himself to the degree he did if he thought he was on Yasmin's level, and she was very good at making him feel like he wasn't. He says he would've eaten broken glass just to eat her out even once. At the end of the season, Yasmin apologizes for using him. "It's all right," he responds. "It usually works if the person wants to be used." This doesn't mean that Robert is a completely well-adjusted individual, but it does mean that he and Yasmin both knew what they were doing in season 1, and no one was being taken advantage of.
---
Why is it that some of the kinkiest dynamics on TV aren't in shows that even focus on sex, let alone BDSM? Perhaps the writers of these shows are interested in exploring different forms of power play—in the boardroom, the bedroom, and beyond. Or maybe it's to point out that people are multifaceted and often have hidden sides of themselves that are revealed only in intimate moments. Whatever the cause, we hope more shows continue to feature D/s and BDSM in authentic ways.