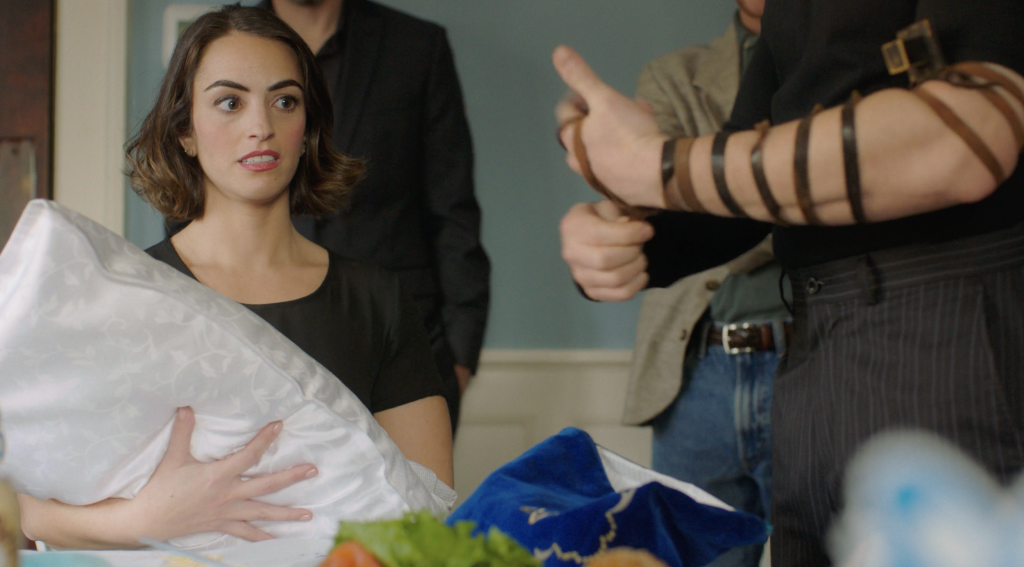 CineKink, the annual kinky film festival based in New York City, was held in person this year for the first time since before the pandemic, but we were out of town when it happened. Fortunately, they aired all the films virtually earlier this month. Here's our review roundup of the kinky shorts from the festival in alphabetical order. We also watched a full-length BDSM feature, which we review in brief at the end.
Krush the Wrestler, a documentary, was the best short of the bunch. Good Girl was also quite enjoyable and well made. Read on to see what we thought of the rest.
In this quirky short comedy, a school teacher with a Batman role-play fetish navigates the world of online dating and may have found the perfect willing Robin. This one certainly wins points for highlighting an obscure fetish!
Gloryhole Theater: Knife
This short short is about a woman who told a play partner it wasn't her first scene when it was and that she'd set up a safety call when she hadn't. She thought she was going to die but didn't. That's it. It's over before it's really even started, and there isn't much to it.
In this short written by Haley Dercher, Rachel is a high-achieving, Jewish "good girl" who is tired of playing by the rules. She starts fantasizing about being dominated in various ways and starts seeing BDSM—hidden and overt—in unlikely places, including a deli, the hospital where she works, and a friend's son's bris. This is a really well made, charming film with great acting. It comes as no surprise that it's based on the award-winning script for a TV pilot also written by Dercher.
The title pretty much sums this up: an unseen woman films pet players home movie style as she talks to them and they frolic and fuck like dogs. Porn for pets!
This fascinating documentary short was our favorite film of the bunch. It profiles a man who developed a wrestling fetish when young, perhaps as a way to covertly explore his homosexuality. He later capitalized on his fetish by making bespoke wrestling videos for other wrestling fetishists and has a booming business. Krush is his wrestling character—a man who does what he wants and doesn't repress any part of himself. His observations about wrestling and fetishism are insightful and poignant.
Oral History
This documentary short chronicles the history of the Phoenix, the last gay leather bar in New Orleans, which has survived many difficult times, including the AIDS epidemic and Hurricane Katrina. The documentary does a fine job preserving the history of this storied bar, but it's also reminiscent of any number of other documentaries about similar establishments.
This film starts off strong but unfortunately falls flat by the end. A kidnapped couple in the trunk of a car is late for their poly group therapy. Absurdly, they call their secondary partner from the trunk and obliquely explain their situation. The third puts them on speaker, and because the therapy is supposed to involve role-play, the group interprets the couple's situation as a metaphor for their relationship troubles. This part is pretty amusing, but things quickly devolve when the couple reaches their destination and things turn bloody. The film unsuccessfully tries to straddle a line between dark comedy and horror.
In this short, a pro dom grows weary of his sub's desire to be humiliated because he feels it's no longer eliciting a response from the sub. The dom agrees to continue sessions but only if they try something new. The next time they meet, the dom switches the script and demands that the sub repeat compliments about himself. The sub resists at first, but the dom reminds him he can safe word if need be. The sub gradually opens up and reaches a new level of honesty that heightens the intimacy between them. Unfortunately, all of this added up to a film that was neither offensive, enlightening, nor entertaining, just rather bland.
This black and white short depicts Sir Malice and Boy Donald doing various BDSM activities. There's no speaking in the film, but there's a written statement at the beginning noting that BDSM can lead to spiritual transformation. For all its artsy, moody shots, however, the film fails to convey this.
If you're into wax play, this is the short for you. The six-minute scene involves a woman dripping a large quantity of hot wax on a man. At one point he holds candles in his mouth and wears an impressive halo made of candles and melted wax. Annoyingly, the screen cuts to black frequently for dramatic effect.
---
This is a feature-length film about a man and woman who meet at a BDSM club and have a one-night stand that starts to evolve into something more. The film includes a lot of great, realistic conversations about BDSM, but the acting is so wooden, and the story is so aimless that it's hard to see past that.
---
Interested in more BDSM film reviews? Check out our Entertainment posts.