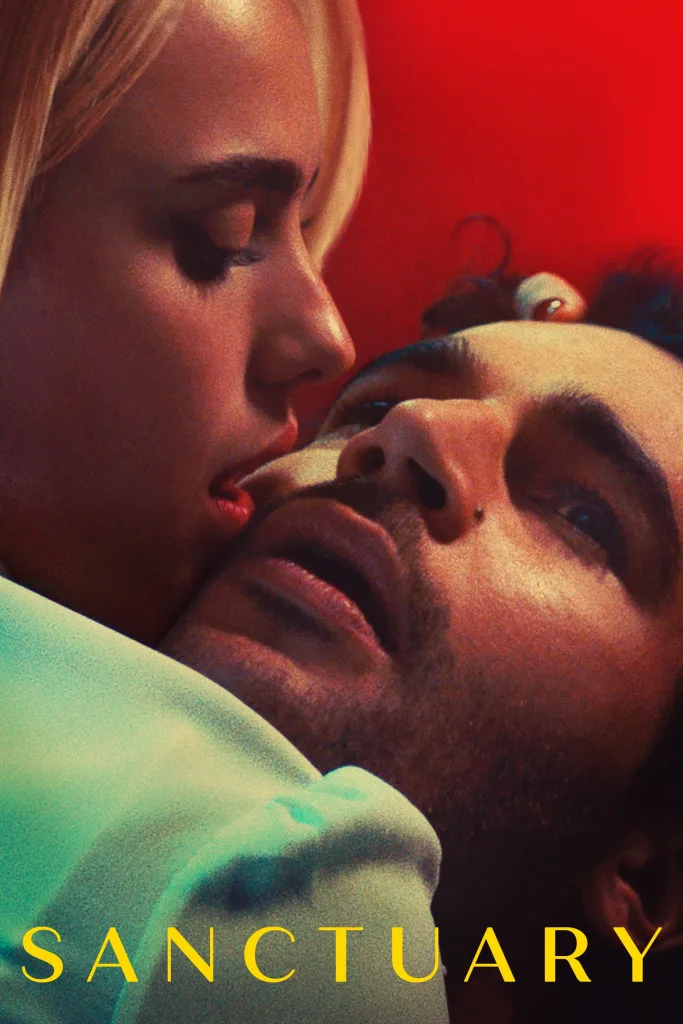 As an Amazon Associate, we earn from qualifying purchases made via one of the links below (at no additional cost to you). 
Sanctuary (2022), a taut psychological BDSM drama directed by Zachary Wigon, tells the story of Hal (Christopher Abbott), a wealthy hotel scion who attempts to call off his long-standing arrangement with his pro dom Rebecca (Margaret Qualley). But Rebecca isn't willing to give him up without a fight, and emotional and physical chaos ensue.
As the latest entry into the BDSM film catalog, there's a lot to appreciate about Sanctuary. It's clear the filmmakers did their research and portrayed some authentic aspects of a kinky dynamic, even though it's pushed over the top for the sake of the drama. Perhaps predictably, this is not the film to watch if you want pointers on how to conduct a healthy BDSM dynamic, but it does a number of things quite well if you view it through the lens of fantasy.
Recap (Includes Spoilers)
At first, it seems that Hal and Rebecca have a fairly standard pro dom/client arrangement. Rebecca shows up at his hotel room pretending to be a lawyer who's vetting him for a CEO position. She proceeds to ask him a series of increasingly personal and humiliating questions. At one point, she seems to go too far, and he tells her not to deviate from the script. She says that although he put a lot of time into the script, he doesn't really know what he wants. She then forces him to clean his already immaculate bathroom. When he does as he's told, she allows him to jerk off but not come. At the end of the scene, the camera cuts to a copy of the script, which shows that the entire scene—even the "off script" parts—were in fact scripted.
This is an important reveal, because it makes the audience wonder whether everything that happens from that point on is all part of an elaborate scene or whether things truly go off the rails.
After their scene, they eat dinner together in the hotel room, and we learn that Hal's father has recently died, leaving him as the heir apparent to the family hotel chain. He gives Rebecca an extremely expensive watch and tells her that she's made a huge difference in his life but that because he's taking over the company, he can't continue seeing her. He needs to be "a person who wins." Rebecca, clearly dismayed, leaves abruptly but doesn't make it any farther than the elevator before barging back into his room. 
She tells him that the only reason he thinks he can take on the CEO job is because of her—because she's taught him how to be confident and ask for what he wants. He denies this, but she doubles down and demands half his salary for the first year of his job because, according to her, this is what she deserves for helping him. Naturally, Hal says he can't comply. But Rebecca threatens to reveal his sexual proclivities to the world if he doesn't. She claims to have video evidence of their scenes, which Hal doesn't believe—at first. But it becomes less clear what the truth is as time goes on.
Amid all the emotional and physical destruction that unfolds, there are some insightful exchanges about who really has the power in their relationship, and perhaps in D/s dynamics more generally. Hal insists that Rebecca hasn't taught him anything and reminds her that he's the one who scripted all their scenes; she just delivered the lines. She argues that the words are superfluous. To prove her point, she starts reciting the pledge of allegiance and tells Hal to remove his pants. He refuses, saying he still has control because he's the one who's paying her to make him feel a certain way. And then things take a turn:
Rebecca: Take off your pants so I don't have to keep punishing you.
Hal: And I am saying no.
Rebecca: Stop me.
Hal: You're holding a knife to my neck.
Rebecca: Okay, so take it. Take this knife. You're stronger than I am. Take it. Tie me up. Come on, please.
Hal: I should.
Rebecca: How about this. Just say to me that you don't care what I want and that it's not the most important thing to you. Say that, and I'll stop. Pull down your pants. [Hal complies.]
There are some interesting things going on here that might not be entirely apparent to a BDSM novice. First, this scene, and the film as a whole, is an exploration of a nearly universal core submissive fantasy—that the dom instinctively knows what the sub needs and is willing to push their limits and ignore their protests to achieve it. To do this at least somewhat ethically, Rebecca acts within their previously negotiated power exchange dynamic where Hal can end their session with a safeword but not with the word "no." She acknowledges his resistance and provides alternative ways to end the scene with both words and actions—even going so far as to instruct Hal to tie her up (which is particularly interesting given how the tables seem to turn later on).
Things escalate further, and Rebecca admits that she quit her job as a pro dom some time ago because it felt disloyal to continue seeing other clients. She also broke up with her fiance. She says she hates who she is in the real world but becomes the person she wants to be when she's in control of Hal. Rebecca insists that she "unlocks" something in him and that they fit together.
At this point, Hal starts yelling "sanctuary!" and the double meaning of the title becomes clear. It's their safeword, but it also describes their dynamic. It's not the violence or the emotional attacks that have pushed Hal over the edge but the idea that Rebecca is just as invested in their relationship as he is—maybe more so—and sees it as something real. Admitting that their twisted relationship is a safe space, so to speak, is more threatening to Hal than potential blackmail. It's left ambiguous whether some of Rebecca's previous actions were kinky play or abuse, but she confirms that she's not playing about her commitment to Hal. He insists that she's doing a scene and none of this is real. She counters with, "This is the only thing that is real."
Things continue spiraling out of control before ending with an emotionally charged roleplay episode that has a cathartic effect on Hal and makes him question his career goals in a positive way. And it seems, by the end, that Rebecca was right, and the two of them do indeed fit together.
Critique
Sanctuary is fairly successful as a BDSM fantasy. It hinges on the idea that Rebecca as the dom knows Hal better than he knows himself and can push past his limits without breaking him. It also does a good job of exemplifying a popular conception that BDSM has real-world benefits and applications. For instance, if you're lacking confidence in your vanilla life, BDSM will help you become more assertive. Additionally, the movie tackles the age-old question of who really has control in D/s—the dom or the sub—in a compelling way.
On the other hand, it's worth questioning whether conflating fantasy and reality is a plus. While Hal and Rebecca do bring out "the best" in each other by the end, it's not necessarily healthy that they feel they can only be their true selves in scene. Relatedly, Sanctuary reinforces an unfortunate BDSM movie trope—that kink necessarily involves boundary crossing. As much as we hate to say it, it's not dissimilar to 50 Shades in that there's a dom who dramatically oversteps in an abusive way. The only reason this comparison might not be more obvious is due to the swapped genders and because in Sanctuary, the sub is the one with the money, not the dom.
Ultimately, the excellent acting overrides a lot of these issues, as does the set. The film takes place exclusively within a well-appointed hotel suite and the hallway outside it and includes no other actors with speaking roles aside from the two stars. These choices may have been made due to COVID-19 filming restrictions, but they work to the plot's advantage. The claustrophobic environment serves to amplify the co-dependent aspects of Hal and Rebecca's relationship and reflects the insular nature of intense D/s dynamics—for better or worse. Overall, Sanctuary is entertaining and thought provoking.