Originally published Dec. 5, 2018; updated Feb. 20, 2023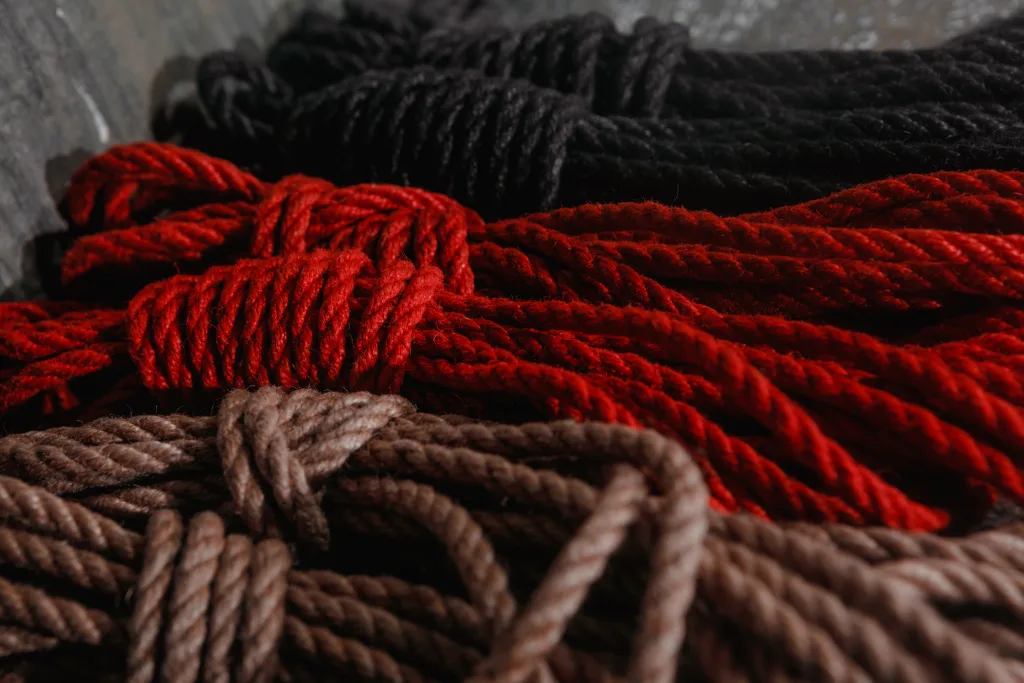 We fell in love with rope bondage at the beginning of our relationship, and it's still a pivotal part of our play today. When you're new to bondage, it can be overwhelming. What kind of rope should you buy? How do you decide? This guide is a breakdown of the pros and cons of the myriad types of rope on the market for bondage.

We've discovered that there is no perfect rope for everything; there are always trade-offs. So whether you're a masochist who loves suspension, or just want an upgrade from your faux fur restraints, we recommend you keep a few of these ropes at the ready.
Use the interactive charts below to compare rope by characteristics (softness, stretch, etc.) and type (cotton, hemp, etc.).
Burn

How much the rope will "burn" if it travels across skin quickly. Generally, natural fibers are less likely to burn the skin at a high speed.

Bamboo (Rayon)

Cotton

Hemp

Hempex

Jute

MFP/Nylon
Softness

How the rope feels on the skin. Sofer is generally better for beginners or anyone with sensitive skin.

Bamboo (Rayon)

Cotton

Hemp

Hempex

Jute

MFP/Nylon
Stretch

How much the rope tends to "give" when straining against it.

Bamboo (Rayon)

Cotton

Hemp

Hempex

Jute

MFP/Nylon
Upkeep

How easy it is to break in the rope, clean it, and care for it over time. Ropes with the lower scores shed during play and wear out quickly with frequent use.

Bamboo (Rayon)

Cotton

Hemp

Hempex

Jute

MFP/Nylon
Cost

Typical price point for bondage-quality rope.

Bamboo (Rayon)

Cotton

Hemp

Hempex

Jute

MFP/Nylon
Shedding

The amount of fibers that come off the rope while it's being used.

Bamboo (Rayon)

Cotton

Hemp

Hempex

Jute

MFP/Nylon
Compactness

How tight knots are. The tighter a knot is, the harder it is to untie.

Bamboo (Rayon)

Cotton

Hemp

Hempex

Jute

MFP/Nylon
Speed

A combination of the rope's lightness and ease of tying, which corresponds to how quickly someone can complete a tie.

Bamboo (Rayon)

Cotton

Hemp

Hempex

Jute

MFP/Nylon
Bamboo (Rayon)

This very soft rope, sold as "bamboo silk," is usually rayon made from bamboo pulp. (Natural silk and bamboo have properties closer to cotton and linen.)

Burn

Softness

Stretch

Upkeep

Cost

Shedding

Compactness

Speed
Cotton

Cotton rope is a cheap and widely available at hardware stores as clothesline.

Burn

Softness

Stretch

Upkeep

Cost

Shedding

Compactness

Speed
Hemp

Hemp is a popular natural fiber rope with a grassy smell.

Burn

Softness

Stretch

Upkeep

Cost

Shedding

Compactness

Speed
Hempex

Hempex is a synthetic rope that requires a little wearing in.

Burn

Softness

Stretch

Upkeep

Cost

Shedding

Compactness

Speed
Jute

Jute is a natural fiber rope that is often used in Japanese-style bondage.

Burn

Softness

Stretch

Upkeep

Cost

Shedding

Compactness

Speed
MFP/Nylon

We tested bondage quality MFP and Nylon that is soft, slick, and easy to clean.

Burn

Softness

Stretch

Upkeep

Cost

Shedding

Compactness

Speed
OTHER POPULAR MATERIALS NOT IN THE CHART
We tested linen rope but did not include it in the charts because it's extremely similar to cotton and not as commonly used.

We tested some mulberry silk (real silk) rope, but besides its shine, we found it to have similar properties to linen overall.

We did not test coconut rope because ouch! This rope is primarily used in sadomasochistic rope scenes due to its extreme abrasiveness.
CAVEATS
All the rope we tested—except for cotton and hempex—was strictly made for bondage (for example, MFP for horse bridles is much stiffer than the MFP we use).

We're not describing maintenance routines here. For example, jute and hempex require significant "breaking in" before being suitable for use, and other materials benefit from a little wear as well.

Rope varies quite a bit from vendor to vendor. The jute (or whatever) you buy from one shop may feel or behave a little different from the jute you buy from somewhere else or make yourself.
BEST ALL-AROUND ROPE
If we consider each of our categories equally, then hemp is the best all-around choice for rope bondage. It has a smell and sensual feel that many bottoms love. It ties beautifully and works well for shibari. If you wanted to use a single type of rope for everything, it's even possible to find reinforced hemp to use for safe suspension uplines.
BEST ROPE FOR SPECIFIC USES
Bedroom:

For sensual and decadent bedroom rope bondage, consider splurging for "bamboo silk" or other softly spun rayon.

Everyday and public play:

We've found MFP to be an outstanding option for use anytime, anywhere. If you want to maximize playtime in a busy life then cleanliness and ease of maintenance are the top priorities. MFP is very soft, waterproof, incredibly strong, isn't prone to jams, and takes very little time to wash.

Newbies:

Cotton is ideal for getting started. It's not an uncomfortable choice, and $20 can buy at least 100' of rope. Although it won't last forever, it's great for experimenting with different lengths.

Shibari/kinbaku:

Professional rope models and riggers far and wide use jute, and it's not hard to see why. It ties quickly and compactly and photographs beautifully.

Suspension:

Jute is commonly used for suspension, and so is MFP. That said, there isn't much information about the safety of rope

harnesses

based on rope type. However, suspension accidents almost never occur due to harness failure. If in doubt, use

rated rope

.

Uplines

for suspension are a different matter, as these are the cause of most suspension accidents. We recommend hempex for uplines. It's a plastic hemp lookalike with many of the properties of natural hemp, but a single 6mm line has a breaking strength of a half ton.
BUYING ROPE
Not all rope is created equal. This is why it's important to buy rope that's designed for bondage. For example, marine grade nylon is horribly stiff, and some natural rope is treated with chemicals to repel rodents. The one exception is natural cotton rope, typically sold as clothesline, which you can find at most hardware stores and works perfectly well.

It's most practical to buy 20–40' lengths of rope. Anything shorter or longer than that will likely be annoying to deal with. You'll either need to keep extending it or you'll be pulling on it forever. Consider practicing some ties with cheap cotton cut into different lengths before splurging on the good stuff.
Another thing to consider when buying or resizing rope is how the ends are finished to prevent fraying. There are four basic options, shown below from left to right, from "fastest" to the most likely to jam and slow down your tie: whipped (with twine), taped, fused (melted), and knotted. Unlike natural rope, it's most effective to fuse synthetic rope. If you want to do this yourself, do so cautiously so you don't end up with hard, sharp melted plastic at the ends.
You have more choices with natural rope. Knotted ends can be more secure when connecting one hank of rope to another, but they're most likely to cause traffic jams when tying and get in the way. If you buy rope that isn't finished the way you want, you can try another method. Whipping with wax twine is our favorite way to finish rope, but it can be tedious work.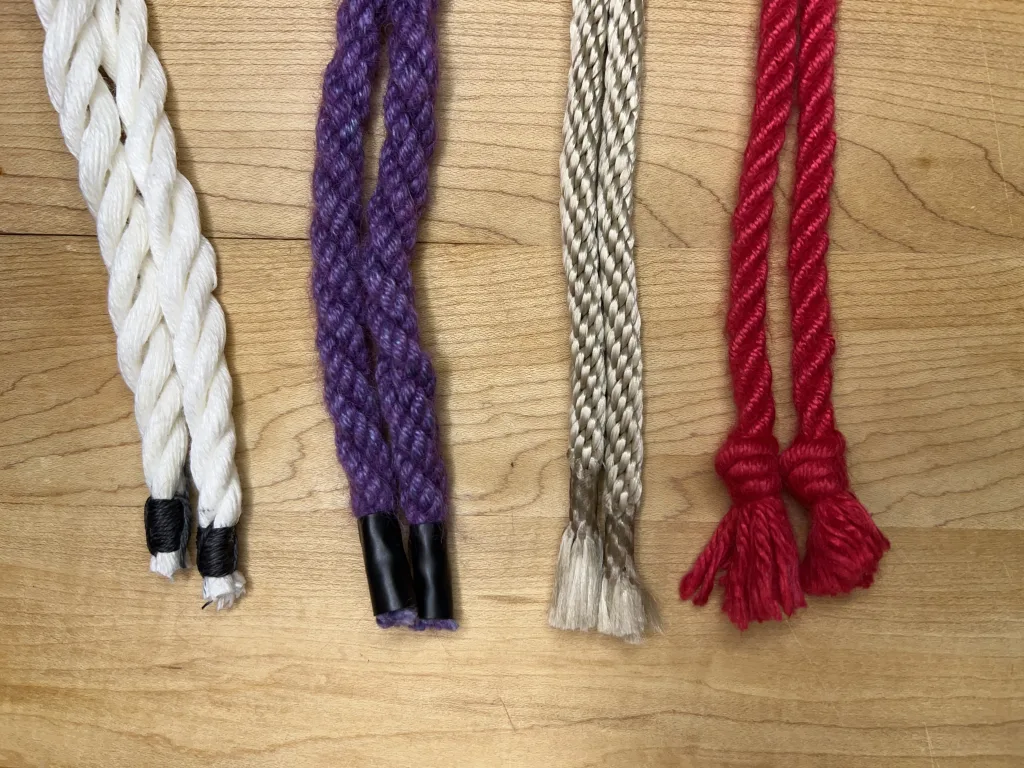 A few rope sellers we like:
Agreeable Agony

: Sells more than just rope, but we especially love their MFP rope, which is available in numerous colors.

RebornRopes

: We love their bamboo rope, but they also sell jute and hemp.

Twisted Monk: Sells great quality rope of all types. You can even order a sampler that includes short pieces of a variety of rope types so you can see how they feel before buying the real thing.
ADDITIONAL RESOURCES
Rope Resources

: Our list of best books on bondage, tutorials, bottoming information, and more.

Essential Rope Bondage Tips for Beginners: Our essential, user-friendly tips and tutorials for rope bondage beginners.
Reducing Risk

: Detailed information on rope bondage safety by Rope Study, including how to avoid nerve and circulation injuries.