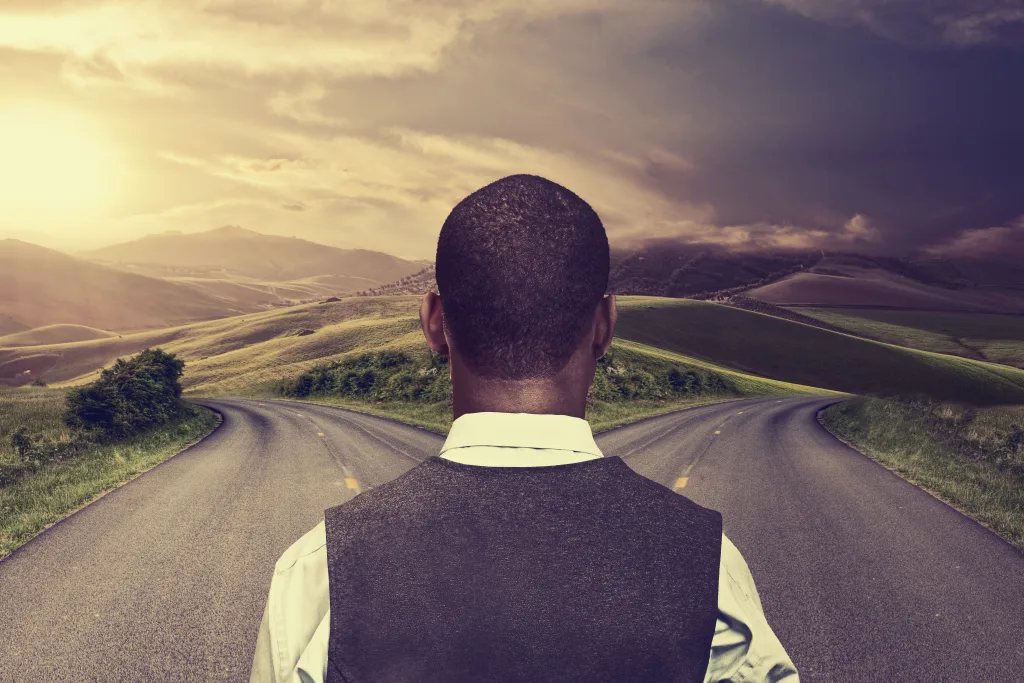 Once you realize you're kinky, it's natural to start wondering why. Were you born this way, or did something happen to spur your interest in BDSM? The nature vs. nurture debate is far from settled, but we've taken a look at our own paths to BDSM as well as available research to see what it can tell us.
Our BDSM Origin Stories
Both of us became interested in BDSM on our own and tend to believe that being kinky is an innate part of our sexual identity. But our paths to discovering our kinky sides occurred at different points in our lives.
Mimsy has always been a rule-oriented, anxious person who is in control of her behavior and life. Although she had a few sporadic kinky experiences in her 20s and early 30s, it wasn't until she was in her late 30s that she truly began to discover and embrace the sexually submissive side of herself. At that point, she realized she wanted to seek out dominant men to explore BDSM and D/s specifically.
Vagabond's kink journey started earlier in life. As a kid, he discovered that he enjoyed pain by electrifying his fingertips with the stingy current of an ionizing air filter, and he had switchy D/s fantasies that involved turning the tables on female captors. But he didn't start exploring BDSM in earnest until he got divorced at age 35. After experimenting with different kinky activities and relationships, he settled into his sexual identity as a dom, which was a perfect fit.
BDSM and Nature vs. Nurture
There's no consensus on whether people are born or made kinky. People who are into BDSM attribute their kinkiness to a variety of things. Multiple studies have borne this out. Depending on the study, anywhere from 14 to 73 percent of kinksters feel that their kinky identities are innate or a core part of their identity. On the flip side, 35 to 67 percent of people attribute their interest in kink to external factors, such as a partner's interest, porn, or the way they were raised. But even among those whose interest was triggered by something external, many still felt that this experience awakened an intrinsic desire that they simply hadn't recognized before.
We hope future studies delve more into demographic breakdowns when it comes to BDSM and nature vs. nurture, because there are some interesting differences. For instance, in one study, a greater share of dominant than submissive women considered their identity to be inborn (50 vs. 38 percent, respectively), whereas the reverse was true for men (61 percent submissive vs. 39 percent dominant). It's not clear why this might be the case, but perhaps by defying gender norms, dominant women and submissive men feel more compelled to justify their kink identities by saying they're innate.
Nature as a Continuum
These studies all show that there's no universal BDSM origin story. Some people have been kinky for as long as they can remember, while others can recall a defining incident or cause that led them to discover that side of themselves. But it seems too simplistic to see these as distinct nature vs. nurture pathways. Even when outside influences spark someone's interest in BDSM, it seems likely that dormant desires existed already that needed a nudge to come to the surface. In other words, "nature" may be more of a continuum than previously thought. Some people, like Vagabond, tap into it very early in life, while others, like Mimsy, are late bloomers. That doesn't mean that one of us is innately kinkier than the other, though.
"Learning" to Be Dominant or Submissive
Sometimes people who are new to BDSM and D/s ask how they can learn to be more dominant or submissive. Invariably, responses fall into two categories: with a little hard work and research, you can learn how, or you can't learn it—you're either a dom/sub or you aren't. We agree more with the latter stance, and we'll explain why.
Anyone who cares to can learn the mechanics of BDSM. If you want to learn how to flog, do rope bondage, spank, and so on, all you need to do is read some books, take a few classes, and have a willing partner. This is not to say these activities are easy, but rather that they can be learned like any other skill. It's possible to want to learn how to be a service top or bottom to please one's partner or experiment. 
If, however, you want to incorporate power exchange into your play, you need to have some intrinsic desire to do so, either as a dominant, submissive, or both (depending on the circumstances). We don't believe it's possible to teach someone how to want to take control or give it up, as these feelings are much more tied to someone's personality and identity than learning a skill is.
Vagabond tried subbing a couple of times early on in his kinky exploration and felt he was faking it to keep the scenes flowing. Despite enjoying sensation play that some would describe as "pain," emotional submission didn't come naturally at all. The best he could do was attempt to act his way through it, and it was never arousing for him. Mimsy has never even tried being dominant because the concept feels so alien to her. Even before she knew the vocabulary to define submission or BDSM, she knew she wanted to give up control, not take it.
Just because someone identifies as dominant, submissive, or a switch doesn't mean they have nothing to learn, though. No one starts as a fully formed dom or sub. We all need to take that core trait and nurture it with education and practice.